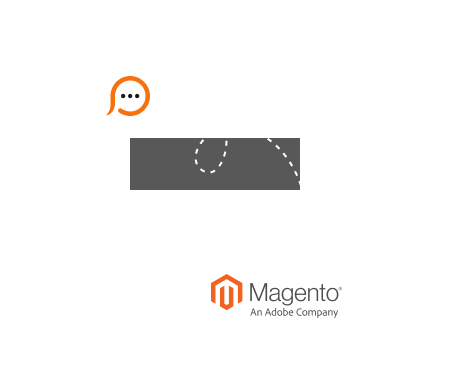 For Magento users seamless Live Chat integration is possible with Provide Support module for Magento. Powerful customization options let you specify any position for the live chat button and select suitable images from the gallery or use a custom set of live chat icons. No matter what type of Magento theme you have, within Provide Support Module settings you will easily configure the most suitable position and choose the best set of live chat icons from the gallery. What kind of features are coming with the Magento module? Please have a quick glance at them:
Using the set of live chat icons defined in the account settings of the Provide Support account Control Panel.
Defining links to custom live chat images. This feature is very convenient in case you use one account on several websites. It allows selecting different images for different websites.
Generating text chat links.
Placing the chat button to an available with your Magento theme position.
Adding the chat button to a fixed position on the browser window. This feature will make the chat button follow your website visitors while they are scrolling the page up and down. A rich set of live chat icons is available for this purpose, including vertical images. Please check our gallery for this.
Displaying your live chat button on all predefined Magento store pages or within single posts created in CMS/Pages.
Monitoring the whole website in case the chat button was hidden for some pages.
How to install Live Chat extension for Magento?
To start with extension installation, please follow System / Magento Connect / Magento Connect Manager.
You can either search for module via Magento Connect and paste extension key (http://connect20.magentocommerce.com/community/ProvideSupport_Live_Chat) to install or upload the module package directly. Provide Support Live Chat module will appear in the list of available extensions after the installation has been completed.
To proceed with integration, click 'Provide Support Live Chat' link in your admin panel menu and choose Settings there.
Log into your existing account or create a new one. When creating a new account a free 10-day fully functional trial starts. During this period you can test the system and use it in real time with your customers.
Make sure 'Enable live chat module' box is checked, then configure the module according to your requirements and click 'Update' to save changes.
Download and install the operator console on your computer, log into it using your credentials to appear online and start accepting chat requests.
Continue configuring your live chat account settings on Provide Support website to customize your live chat tool.