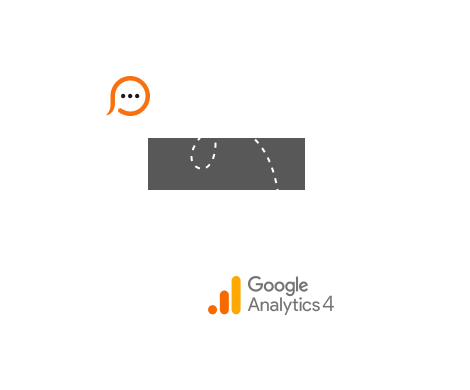 Google Analytics and Provide Support Live Chat integration
Live chat integration with Google Analytics lets you check GA reports on a number of your Live Chat Window loads. It also allows you to track a number of initiated chats and a number of sent offline messages as events.
Visitor Live Chat Window Loads
The number of Live Chat Window loads will be available in your GA reports in Real-Time / Content and Behavior / Site Content sections as visits for the following URLs: /messenger/your-account-hash.html or /messenger/your-account-name.html
Live Chat Analytics Events
Two types of events are pushed to your Google Analytics account:
Chat Started - this event is pushed when a visitor fills out the pre-chat form and clicks 'Start Chat' button, i.e. when a chat room is loaded
Offline Message Sent - this event is pushed when a visitor initiates an offline message sending
In your Google Analytics reports you will see pushed events in Real-Time / Events section and in Behavior / Events section these events will be arranged by date.
To enable the integration, please do the following:
Log into your Provide Support account Control Panel and follow there Account Settings / Analytics page
Enter your GA tracking ID to the 'Google Analytics Tracking ID' field
Optionally define your own Category, Action and Label names for 'Chat Started' and for 'Offline Message Sent' events
Save your settings
Other available integrations