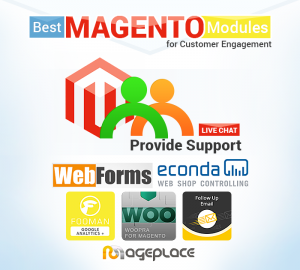 Magento Content Management System powers 26% of top Ecommerce websites. Responsive layout, customizable design and an ability to reinforce Magento based websites with a great variety of useful extensions make this system one of the most popular among eCommerce platform solutions. A great deal of Magento extensions are available for different purposes. In this article we will suggest which of them will help to improve customer engagement and provide better customer support service.
Get closer to your audience with special custom forms
Being transparent and letting customers contact you whenever they have questions or would like to leave a feedback is a great step towards excellent customer support service. If you are not ready to utilize a live chat tool on your website, customizable web forms may become a good alternative which lets your visitors get in touch with you fast and easily. The WebForms extension is ideal for this purpose. It lets you not only design your own form and place it on your website but also get email notifications, filter results and integrate with your HelpDesk system. More detailed features description is available here.

Live Chat tool – the best tool for customer engagement.
Live Chat tool is a must have tool today for any eCommerce website. It lets visitors contact you and have their questions replied in real time and in addition to this it helps to solve shopping carts abandonment problem as according to baymard.com statistics  67.44% of online shopping carts on average are abandoned by users. Besides this it gives a great opportunity to generate leads and increase sales. Provide Support Live Chat Module is a new extension for Magento but it is very easy in integration and lets position the chat button and customize it directly from Magento admin panel. When having a Live Chat tool installed on your website, you will be able to monitor your website in real time, see where your visitors come from and analyze referrer sources. In addition, all these details can be stored and later available for reviewing with special Traffic Stats module.
Show caring attitude towards your customers
Another useful tool which can be used to address shopping carts abandonment issue is Follow Up Email by aheadWorks . This tool offers a rich set of features like tracking and sending notifications to those visitors who have abandoned shopping carts, measuring effectiveness of follow up emails, running different reports, special tools for enhancing customer relationship and building customer loyalty, etc.
Engage your customers through polls
Show your customers how you value their opinion by integrating custom surveys with your Magento based website. Ask your customers' opinion and encourage them to vote. This will pay off with customer loyalty and increased customer satisfaction rate. MP Surveys is a convenient in usage and powerful extension which lets you run different types of surveys, collect and analyze results. To find out if your customers like your product and are satisfied with your customer service – just ask them.
Get a deeper insight into your visitor behavior
Proper analytic tools let you collect all necessary information about your website visitors and run reports which will help you to analyze your traffic and make all necessary design updates to make your website more responsive. Fooman Google Analytics + module reinforces default Google Analytics module with additional features which make it more powerful.
In case you would like to get real time customer insight, you can use Woopra  real time analytic for this. Special module for Magento is available for seamless integration with Magento based websites.
Another useful shop monitor analytic tool for online shops Econda which analyzes buying process, marketing and products is available for integration with Magento.
We hope this article will help you to choose the right tools for your business, increase your sales and customer satisfaction rate.
Provide Support is a leading software provider in customer service, offering live chat and real-time visitor monitoring tool for businesses: www.ProvideSupport.com