Provide Support's customizable Start Chat and Leave a Message Forms will help you in collecting as many details as possible from your customers to give them a head start with the conversation, streamlining the customer service process.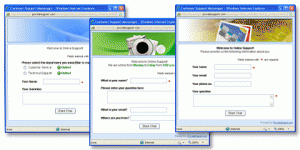 The Start Chat From allows you to collect additional info about your visitors. You can add there the fields you'd like your visitors to fill out and this way get as many details from them as you need. This is really important in case you have a necessity to follow up your customers, call them back or just add their details to your database. During your chat sessions with customers those details will appear in the Room Details tab of your operator console and later you'll find them at the bottom of your chat transcripts. 
In addition to this it's now possible to customize the Offline Form and add there more fields. It's great to let your customers easily leave their feedbacks and queries during your offline support hours and then contact them back using the information they provided.
Take the most out of available features and offer your customers superior live help service!

Latest posts by Provide Support Tutorials
(see all)