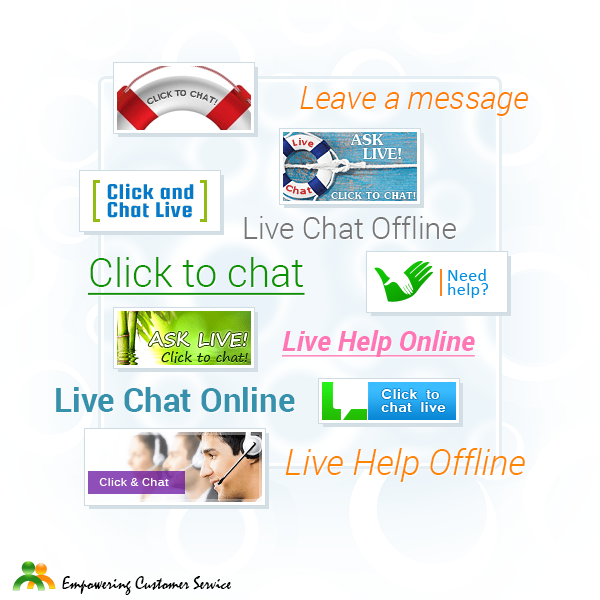 In our previous article we described several available chat button codes options and features coming with them. In this part we will continue digging further to discover what is available with Provide Support system and how those codes can be utilized and integrated with your website.
Chat Button Code for Flash Websites
This type of code is designed specially for flash websites where the chat button is integrated directly with the flash source. Both ActionScript 2 and ActionScript 3 codes are available. However, this type of code has a number of limitations. Though not critical, but for some companies these features are important. If you utilize this type of code on your flash website you will not be able to take advantage of:
Automated chat button status changing (offline / online)
Offline chat button behavior settings (redirection and hiding the offline chat button)
Real Time Visitor Monitoring (for this purpose Hidden Code for Visitor Monitoring should be integrated additionally)
Chat Messenger size regulation directly from the Control Panel, with this type of code messenger's width and height parameters are set directly in the code.
If on your flash website there is a possibility to add content to the HTML source, we would strongly recommend using our Fully Featured Code which supports all features available with Provide Support Live Chat software.
Text Chat Link Code
As an alternative to the standard chat button a text chat link can be placed on your website to the top menu or to the context menu. It is very convenient if you offer different support options and let your users select the needed one from the context menu. The Text Chat Link Code supports all available features and automatically changes chat link status (online / offline). It supports HTML formatting, so you can generate the code for the chat link of needed size color and font to match your website look and feel.
Hidden Code for Visitor Monitoring
If you would like not to display the chat button on particular pages but still would like to follow your visitors' navigation or to send proactive chat invitations you can insert Hidden Code for Visitor Monitoring anywhere within your website BODY section and receive all needed real time monitoring information without your chat button displaying.
Additionally, this type of code can be used if you have flash website and utilize there Chat Button Code for Flash Websites or use No Script Chat Button Code on your website pages. Hidden Code for Visitor Monitoring lets you not only see your visitors in real time, but also gather website traffic stats data and follow visitors' navigation with the Co-browser. If you use Hidden Code for Visitor Monitoring in combination with No Script Chat Button Code, please be advised that in this case you will lack for the following features:
An ability to regulate your offline chat button behavior (redirection and offline chat button hiding)
Ability to navigate your site visitors using Co-browser (only follow mode will be supported)
No Script Chat Button Code
If your website does not allow javascript or for some reason the section you are adding the chat button code to does not support scripting, No Script Chat Button Code would be perfect for you. Additionally, if you would like to add several chat buttons on the same page, it is recommended to use No Script Chat Button Code in combination with Fully Featured Chat Button Code or with Graphics Chat Button Code with Different Images on Different Site Pages to avoid inaccurate monitoring results. No Script Chat Button Code does not support monitoring and will not allow redirecting to another page or hiding the offline chat button when your chat is offline. It also opens the chat messenger in a browser tab instead of the pop up window with predefined width and height. In case you would like to use the No Script Chat Button Code and open the chat messenger in a pop up window, you would need to use the simplified code with elements of scripting. You may contact Provide Support in the support chat to find out more and get this code.
Chat button Code for Facebook pages
If you would like to add a chat button to your Facebook Company page, you are welcome to utilize this code and check in our blog different instructions for integration and for requesting likes before starting the chat.
Click the chat button in the top right corner if you would like to see Provide Support Live Chat in action or have any questions.

Latest posts by Provide Support Tutorials
(see all)