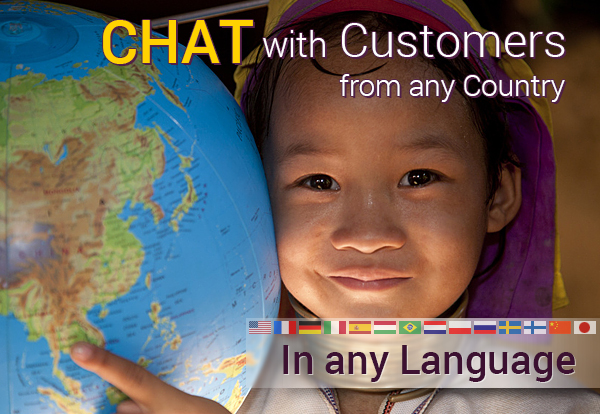 Provide Support offers a universal live chat tool with the Visitor Messenger which allows customization into your local language and guarantees smooth performance no matter what language you operate it in.
Chat with your customers in any language
Our operator live chat console supports characters of almost all world's languages. Whatever language you speak, you can interact with your clients in that language and be sure that your messages will be displayed to them correctly.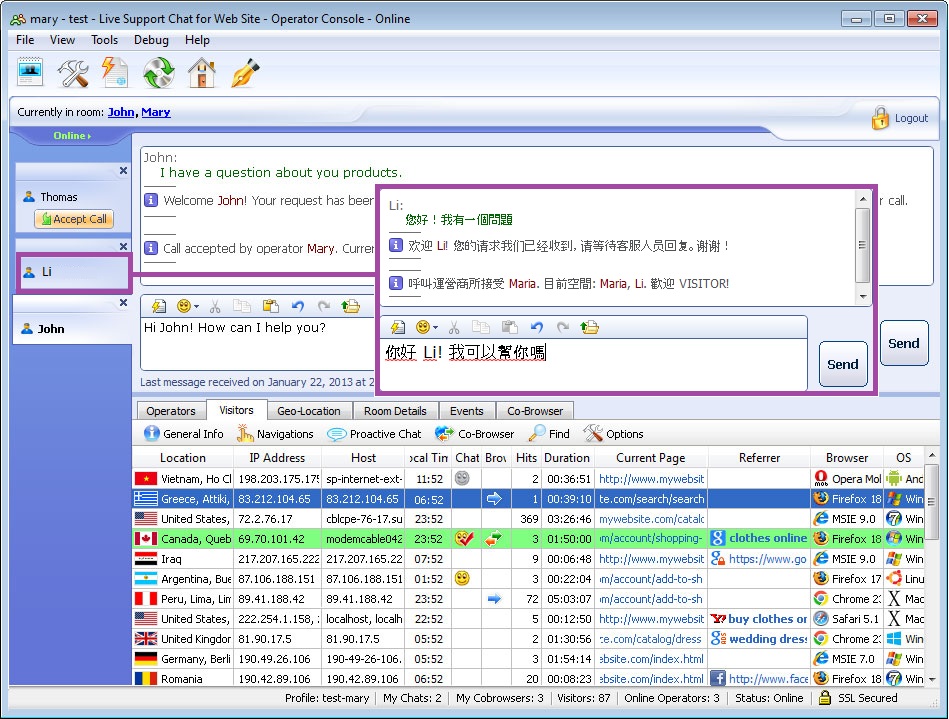 There is a full support for Right-to-Left layout for Middle Eastern languages.

Moreover we offer a built-in spell-checker with 11 dictionaries pre-installed and a total freedom to download and install free dictionaries from OpenOffice.org website, and even create a custom dictionary. Read more on how to configure the spell-checker in our blog post at https://www.providesupport.com/blog/new-hunspell-engine-spell-checker/
One of the frequently asked questions that we hear on our support channel is "Can I chat in English (or whatever language) and have my messages automatically translated into another language?" Provide Support software does not support this functionality. In theory, you could use Google Translator or any other translation software and run your responses through it before posting to the customer, but due to poor quality of machine translations this is not something we would recommend doing, at least not on regular basis. If you aim to provide a quality customer service it is always worth hiring representatives who speak the different languages that your customers speak.
Where do you start off to customize your messenger?
Apply system-wide regional customization in the settings
Currently we offer ready-made translations to 39 languages, including 2 variations of Chinese (Simplified and Traditional) and Portuguese (Brazilian and European).If your language is not in the list of supported languages, you can contact us and we will apply your own translation to the visitor messenger.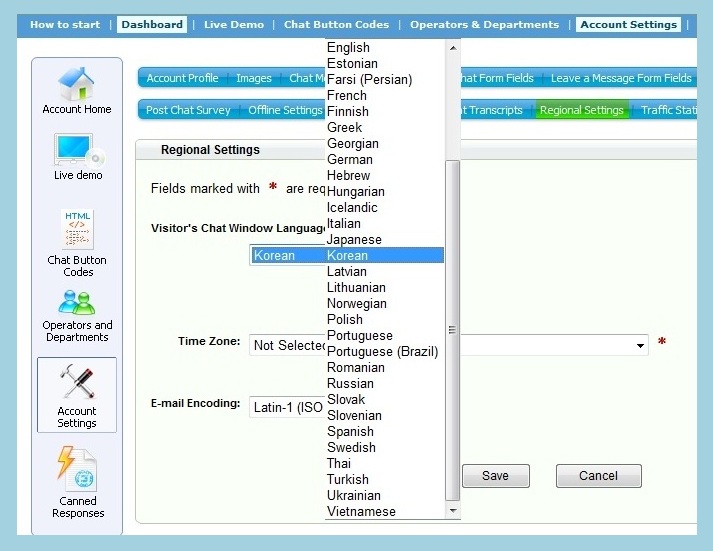 The system translation that you choose in the settings will translate the elements of the messenger window which are not customizable. The areas, fields, messages which are customizable (they are listed below) will by default remain in English so you can translate them manually.
Translate your start chat form
Besides translating the basic fields that we offer, you can add your own fields, such as email, phone, whatever other information you need to ask the customer before they start a chat session with you.
Translate the offline form
That which concerns the online form is also true for the offline form. You can customize its fields and messages and translate everything into your own language. Here are some examples of what the offline form may look like.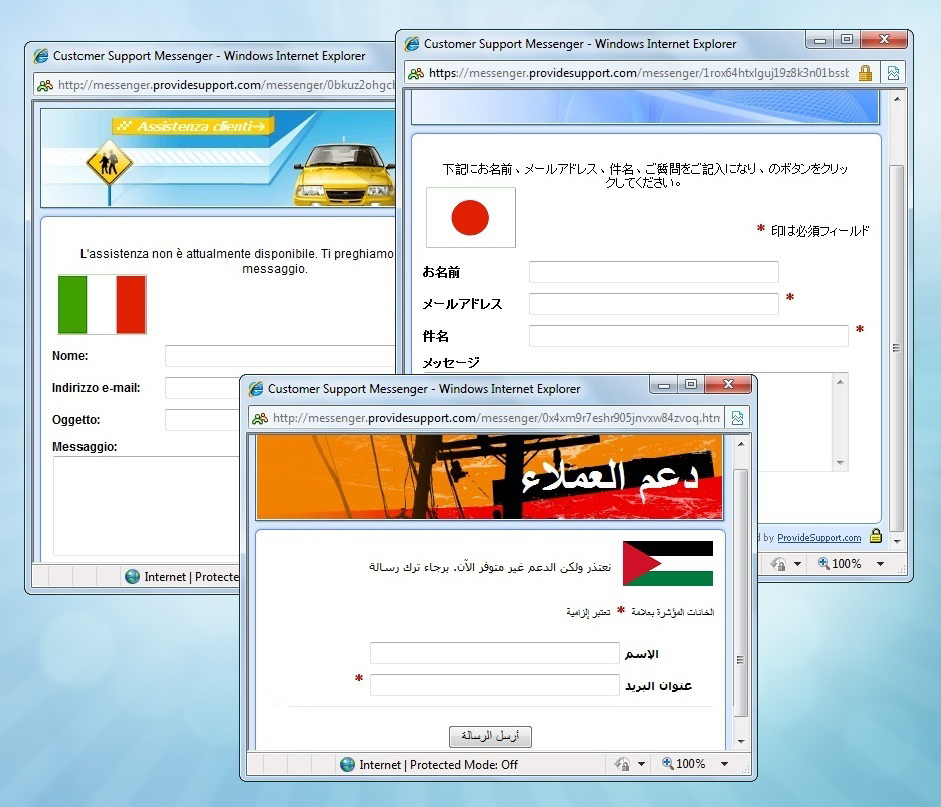 Customize your operator profiles and departments
The elements of the setup visible to the customer in the Visitor Messenger are department names, operator nicknames and operator greeting messages. All of them can be translated from the Operators and Departments screen in the admin panel by editing every individual operator profile and department.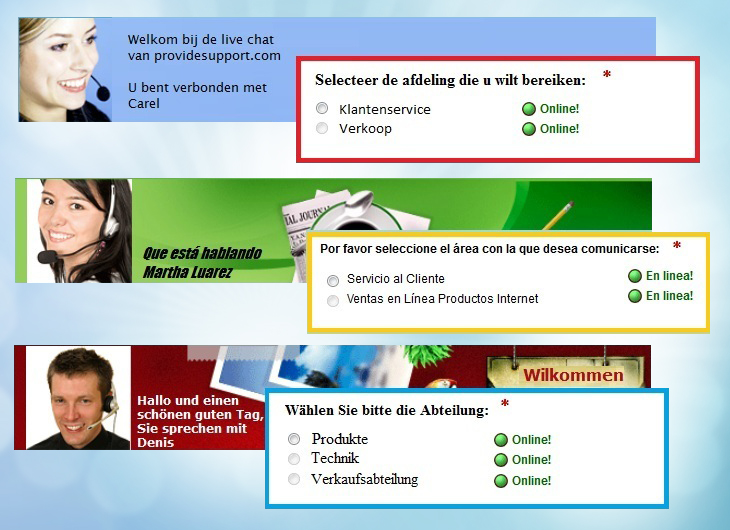 Update System Messages into another language
System messages are displayed to the customer on the Start Chat Form, Offline Form screens and in the Visitor Messenger on different events. You can translate them separately as you go about editing one of the above screens, or you can access all messages in bulk from Account Settings/ System Messages and translate all of them in one go.
Provide Support offers 24/7 live support, so if you have any questions or need help customizing your account into a different language, please feel free to contact us.

Latest posts by Provide Support Tutorials
(see all)