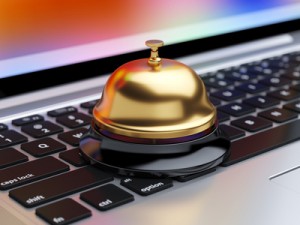 The business age we live and work in today is often called the Age of the Customer which means that shifting the focus on the customer now matters more than any other single factor like product innovation and technology racing.
No surprise, these days we often hear that customer experience is the new competitive battlefield. Brands that consistently deliver better customer service and customer experiences enjoy sustainable growth and business success, and set new standards for their markets.
To Serve or Not to Serve?
Curiously enough, not long before we've entered the Age of the Customer, there'd been a lot of talk about changing leadership styles and models within organizations featuring relatively new concept of servant leadership as a guiding tenet for modern organizations. As opposed to the authoritarian leadership style, servant leadership envisions a leader's primary role as serving the employees, helping them grow and succeed professionally and personally through supportive collaboration, coaching and empowering.
Although the concept itself had existed since ancient times, the term servant leadership was first coined in 1970 by Robert K. Greenleaf who worked as Director of Management Research at AT&T then in his essay "The Servant as Leader". In his work he shared with public his reflections on power and authority and articulated his vision of servant leadership as an emerging moral principle that would prevail in the future:
"The servant-leader is servant first… It begins with the natural feeling that one wants to serve, to serve first. Then conscious choice brings one to aspire to lead. The difference manifests itself in the care taken by the servant-first to make sure that other people's highest priority needs are being served. The best test, and difficult to administer, is: Do those served grow as persons? Do they, while being served, become healthier, wiser, freer, more autonomous, more likely themselves to become servants?"
Since then, much research has been conducted to investigate the relationship between servant leadership and the effectiveness of teams, and a variety of studies provided strong evidence for powerful and positive outcomes of this leadership model. Robert Greenleaf recognized that organizations as well as individuals could be servant-leaders. He also had great faith that servant-leader organizations are the ones that could change the world:
"I am mindful of the long road ahead before these trends, which I see so clearly, become a major society-shaping force. We are not there yet. But I see encouraging movement on the horizon"
Let's Look How That Turned Out
This business world is rapidly changing, companies that drive their business around customer service and customer experience hold leading positions across their markets and evolve standards for their industries triggering other market players to embrace the approach, either deliberately or intuitively.
Those who are genuinely obsessed with serving their customers the best way possible enjoy higher reputation and trust among their customers and constantly attract new followers. Isn't it illustrative that Greenleaf's philosophy of servant leadership makes good sense in business environment?
Like any concept that compiles corporate culture and business strategy, the servant leadership approach is of a trickle-down effect, starting at the top and working its way throughout the company. If you are a business owner or a customer service manager, it's critical that you become conscious of the benefits of applying servant leadership within your organization. And even if you are still at the outset of your career working your way through from an entry level customer service position, I hope it would be useful for you to get aware of the strong points of the approach.
Benefits of Applying Servant Leadership in Customer Service
1. Setting an Exemplary Model
As Jack Mitchell's famous saying goes:"No one is so high up in the organization that they are above waiting on customers". Instilling the vision of yourself as a servant rather than a supervisor will set an example for other team members and help shape the values guiding your team.
2. Getting Your Team Proud of the Job They Do
Another prominent thought leader Stephen Covey emphasized: "Always treat your employees exactly as you want them to treat your best customers."  Your employees will never lose heart and effort in their job if you constantly stress the importance of the job they do and take the time to encourage positive performance.
3. Viewing Product Development as Customer-Focused Process
Being passionately curious in your customers and basing your product strategy around their expectations and needs lets you preserve correct perspective of your company's products and services. You start developing skills of listening more intently and a willingness to learn from your customers.
4. Nurturing Personal Growth of Your Colleagues
Genuine leaders love their teams and serve their best interests, they spark inspiration and encourage hard work. By enlisting personal and professional growth of your team as your determined commitment, you focus on helping them develop new skills and get more expertise.
5. Reaping Remarkable Gains in Brand Reputation
When serving customers (both internal and external ones) is your top priority, and you do it right, your efforts will be rewarded with employees' true dedication and excellent performance. In turn, these bring along exceptional customer experiences, credible reputation, increased customer retention, which eventually determines the long-term success of your business.
Over to You
Have you ever heard of the servant leadership principle? Do you believe that it can help gain better results in business and life? If you have an inspiring story to share, please leave a comment below. And as always, thank you for reading our blog!
Provide Support is a leading software provider in customer service, offering live chat and real-time visitor monitoring tool for websites. Empowering customer service with live chat www.providesupport.com

Latest posts by Julia Lewis
(see all)