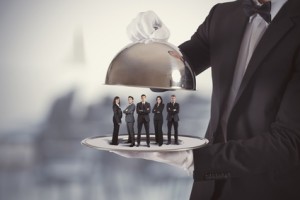 Coming together is a beginning. Keeping together is progress. Working together is success — Henry Ford
What are the most important factors contributing to customer service team success? Are there any secret ingredients, tips or strategies world's leading customer service teams run on? What are the traits top high-performing customer service teams have in common? Can you develop or apply them to build an extremely productive, passionate and tight-knit team of your own?
This blog post is the first in the series that  puts together some examples of great companies known for awesome customer service, as well as advice from customer service thought leaders. Hope there's a thing or two that you consider useful, inspiring and worthy to follow.
Hire The Right People
No matter how good or successful you are, or how clever or crafty, your business and its future are in the hands of the people you hire — Akio Morita, Sony Corp. Co-founder
Providing exceptional customer service begins with the hiring process. Investing the time and resources into hiring the best possible candidates is a key step to making sure that you have the right staff on board —  the right people for representing your brand, serving your customers, growing the business and creating leadership within the team.
Hire like Zappos: Zappos are known for highly unusual hiring process. The company uses  a variety of techniques to make sure their new hires fit in with the rest of the team and the organization. However, successful passing of the Cultural Fit test is not a guarantee of being hired. Zappos wants to make sure any candidate is a genuinely nice person to deal with. The candidates have also to go through the "van drive" test: if a shuttle driver picking a candidate from the airport to the interview wasn't treated well, the person won't be hired.
Invest In Professional Training
Training isn't a luxury – it is the life blood of great customer service. Don't skimp — Tony Johnson, Customer Service Trainer and Speaker
Customer service training for developing and improving the skills the staff need to succeed is essential too. Any company striving to gain a competitive edge over competitors has to make it an ongoing and consistent process. The most successful organizations realize that they should keep investing in training and skills development even if they already have great service.
Train like Disney: "The happiest place on Earth" is famous for providing all its employees with professional customer service training, putting all the newcomers through the course covering Disney's history and traditions, customers' expectations and customer service standards, organizational processes and guidelines. All Disney employees are trained to be assertively friendly "cast members", ready to play a role in the "show" and address any visitor's question anytime, no matter what their level or job role.
Set Clear Standards
The #1 way for any company to improve customer service is to define what great service looks like. Without this definition, you'll wander around aimlessly — Jeff Toister, Customer Service Expert, Author, Trainer and Consultant
Setting detailed and clear service standards is the next key step to guide the team and ensure that every team member understands the expectations for their work. While facing challenging situations, these standards are vital to enable the staff to solve problems and make good decisions and consistently deliver excellent service over and over again. 
Be clear as Starbucks: Starbucks ensures excellent service consistency by having clear service standards. The green apron that Starbucks employees wear includes their company's customer service vision statement. It says, "We create inspired moments in each customer's day." Underneath that statement there are four pillars to it: Anticipate, Connect, Personalize, Own. Every Starbucks employee knows that each of these four is critical, but just as important is applying them in perfect conjunction with each other.
Grow Strong Leaders
Teams are the spark of culture. Get a great manager who builds a great team and watch the fire build from there — Al Hopper, Marketing, Customer Service, and Social Media Expert
Genuine leaders have the ability to mold individuals into a team, they encourage and empower tight-knit team collaboration to create something larger and better than what they can create alone. Leaders are great examples for other team members to follow. They set the tone for delivering excellent service and inspire others to go above and beyond for maintaining the standards.
Grow leaders like Ritz-Carlton: "I have the opportunity to continuously learn and grow" is one of the Service Values at the Ritz-Carlton. This applies to all the employees, known as Ritz-Carlton's Ladies and Gentlemen. Leaders are considered as role models, they are encouraged to embrace development and training at the Ritz-Carlton Leadership Centre (made up of three schools including the School of Leadership and Business Excellence that provides soft skills training to develop identified leaders). Also, at The Ritz-Carlton Hotel Company, it's imperative that leaders are engaged in their jobs to further engage their teams and ensure clear and consistent communication with both customers and employees.
Over to You
Would you agree that these four factors are the most important in building a world-class customer service team? Do you consider other things more important than those I have mentioned here?  We welcome any of your feedback and ideas in the comments.
Provide Support is a leading software provider in customer service, offering live chat and real-time visitor monitoring tool for websites. Empowering customer service with live chat www.providesupport.com

Latest posts by Julia Lewis
(see all)