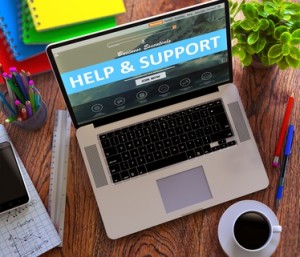 In our modern digital world security is the highest priority for organizations, both big and small. Not only data but also personal space of employees should be protected. Your company may have its own set of security rules and guidelines. But here are some general tips that can help to create and promote a safer work environment of your customer service team. These tips include general security rules for keeping your data protected and your customer service team workspace organized and safe.
For employees:
1. Ensure your data is protected
While working with customers various data including sensitive information like credit card numbers, personal information, etc. is shared. Organizations use special security tools to process and store such type of data. However, there are also important guidelines to follow by employees. They will help to keep information protected and avoid data leakage:
Safe password. Passwords containing letters, digits and special symbols should be used by employees. A weak password may lead to security breaches and data leakage.
Backup your data regularly and store it in a secure location separate from your computer.
Scan files you receive in chat and by email. Today more and more viruses are sent as attachments by email or just as files and links during live chat sessions. You need to scan such files to prevent your computer from being infected.
Sharing sensitive information in chat may be dangerous. There is an option to protect web chat sessions by enabling a secure connection. However, chat transcripts are sent by a regular mail, and this does not provide the needed security level.
2. Report any suspicious activities to your supervisor
While assisting customers through live chat you can use your live chat software to monitor your website. And in case there is any suspicious activity you will be able to detect it with help of real time visitor monitoring. Such activity may look like opening and switching between multiple pages or third partly links not related to your domain appearing in the Current Page column. This can mean that your website content was stolen and is being used illegally.
3. Do not be afraid to complain and report issues
In case you have any questions, face issues or just need a feedback do not be afraid to contact your manager or discuss this with your co-workers. Receiving support from your colleagues and management is very important and will help you to improve your performance and results. On the other hand, if you remain silent the pressure of your problems will grow and you will not be able to cope with your tasks as efficiently as you would like to.
For employers:
4. Supply your customer service team with the right security tools
The right tools like antivirus software, VPN software, firewall, encrypted disc for data storage, regular data backups, password protected access to workstations and protected office network will help to maintain security level in your office and help your employees to keep your customers' data protected.
5. Update software regularly
Regular updates of your security software will ensure that you are protected against the latest threats and your software will detect them. Even if you installed your security software a couple of months ago, you could already be susceptible to new virus attacks, that is why installing the latest security software updates is vital.
6. Make clear security guidelines for your team
According to the research of IBM and Ponemon Institute "2015 Cost of Data Breach Study: Global Analysis", the average total cost of a data breach for the participating companies increased 23 percent over the past two years to $3.79 million. That is why it is important to educate your co-workers to follow good practices and provide them a clear list of security guidelines to be followed in your office.
7. Eliminate psychological risk factors
Mental health of employees in customer service is as important as data security. Being under pressure all day long, your customer support agents need time and place to relax as well as flexible timetable which includes breaks. Mental health issues negatively impact organization's productivity. They affect employee performance and staff turnover. In the below list I have described the most important psychosocial risk factors:
High work demands and mental load. Customer support agents have high work load and constantly work under time pressure. They are forced to multitask and process a large volume of information.
Low job control. Little time for breaks, high tasks load and lack of opportunity to make own decisions lead not only to stress but also to poor performance.
Stress. The nature of CSR job may lead to high levels of emotional tiredness, fatigue and frustration.
Poor leadership quality. Poor ability of management staff to solve problems and manage tasks may lead to disappointment and worse performance.
Lack of management feedback. For customer care agents it is important to discuss their performance with managers as well as with co-workers.
No teamwork. Customer support representatives need support from co-workers and supervisors. Sometimes they need not only help but also want to be listened to.
8. Take care of psychological health and safety
Organizations that value and improve the health of the workplace can improve their organization profile. This in turn can result in better recruitment and employees retention rates, enhancing the potential for growth. Customer support representatives constantly work under pressure and are forced to multitask. This takes much effort and requires some good rest and relaxation.
Ensure that your workers can complain, ask questions, report issues or mistakes, receive a feedback, provide ideas without fearing negative consequences to their career. When employees are psychologically protected they demonstrate greater job satisfaction, enhanced team learning behavior and improved performance.
Today data protection as well as mental health of customer care team are two main challenges which enterprises face. With the influx of new threats and the changes in regulatory requirements, an organization's security needs are continually evolving. At the same time there are lots of psychosocial risks which may lead to poor customer service team performance. Organizations need to be prepared and build a strong security approach as well as employee-friendly workplace and good management of their customer service teams.
How do you manage your customer service team workspace? You are welcome to share your best practices in the comments to this blog post.
Provide Support is a leading customer service software provider, offering live chat and real-time visitor monitoring tool for businesses