It goes without saying that today's gigantic Twitter and Facebook user base makes brands more accessible than ever. Customer service via social media can no longer be considered as a luxury but as an essential component of any customer service strategy – for two simple reasons:
Everyone's thumbs are practically connected to their cellphones – it gives little room for companies to consider alternatives.
Your brand is already online (whether you like it or not) and ignoring social media can be detrimental to your success as a company.
Instead of talking about what businesses should or shouldn't do, let's examine what social media does to customers and their expectations. Technology has changed to the point that a customer can learn anything they want about a product (or brand) on their own, before they even speak to a company representative. With all this power comes great responsibility, so here's my reasons for using social media for customer support (I encourage brands to take notice):
1. I really hate salesmen
In the past, highly skilled salesmen could easily sell a mediocre product. Their task was to elevate weak brands – a tall order in this day and age.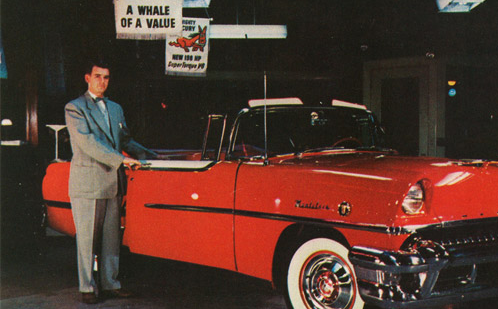 If you were buying a car in the 50s, a salesman would be in total control by feeding you information. There were little (or none) resources available for customers outside of newspaper advertisements and word-of-mouth from friends and family.
Gone are the days when the customer actually needed to be informed about the product. Today, customers can go to a website like Edmunds, compare pricing via Google and watch a virtual tour on YouTube before even stepping foot into a dealership.
The question then is what is today's role of a salesman or company representative? What additional characteristics should they retain in order to sell to the customers that "know everything" and not afraid to share it with the world? It's no secret that the definition of the salesman is slowly being changed, particularly in the face of social media.
2. I don't want to be put on hold
Phone trees never fail to give you that stomach-churning feeling: After being placed on hold (numerous times), I start wondering whether support has picked up and left the building – to Thailand, perhaps.
On a recent flight, I experienced the dreaded flight cancellation. With passengers from my flight scrambling all over the place, I managed to keep an eye out for the service desk. With 50 more people in front of me and nearly all of them on phones trying to reach the airline – I thought there must be a better way. Indeed there was: I could Tweet.
Within minutes, I got a reply by someone named SM, requesting we move the conversation to private message, where I gave a confirmation code, preferences and my name. Within 15 minutes I had my flight rebooked and info sent – all while the line I was in barely moved.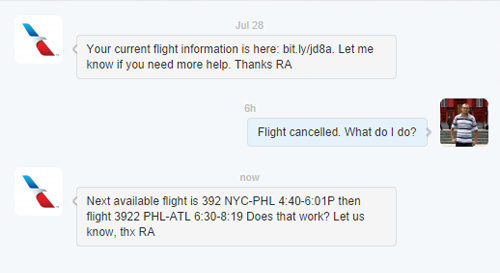 What's most remarkable is that I was on my way immediately. I wouldn't have gotten on that flight if I used traditional methods such as calling the airline. This not only demonstrated the weakness of traditional support channels such as phone and email, but the type of customer expectations social media sets every day.
3. Customer service has a channel
Whether you're a small business or a multinational corporation, you can serve your customers more efficiently by creating a customer service account separate from your brand profile. This separates regular brand mentions from actual support requests, letting support agents focus on support and social marketers on their own thing. Support profiles also allow for better data segmentation for analyzing social media data, leading to a more thought-out marketing strategy.
Who does it well: Samsung

As a global brand, Samsung was an early adopter of this model, segmenting its accounts for maximum engagement. Nevertheless, small to medium sized companies with a large customer base are routinely jumping on board this idea.
4. I have a choice where to post
Customers now feel like they can post questions wherever they want – and with good reason. For example, brands on Facebook can be contacted in 3 ways: direct message, posted to page or in the public comments of a status update. The latter is the most effective because similar to a tweet, the request stays public, transparent and in many cases non-threatening. This places the ball squarely in the company court.
Who does it well: American Express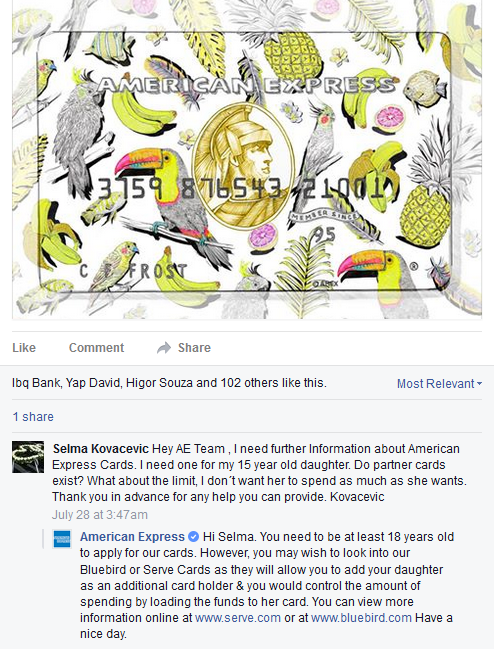 American Express, like many other brands, regularly answer customer queries right on their Facebook page. Promotional posts are regularly used by the customers to push their own support requests.
5. Problems are solved immediately
As the old "if a tree falls" adage demonstrates, an unanswered problem will only leave your customer unsatisfied and your competition seizing the moment to address their problem. Solving any problem at first response is an art. When you quickly, proactively solve issues it resonates with your whole audience – and their followers.
With Twitter's 140 character limit, glossing over the problem with generic statements such as 'I apologize for the inconvenience" isn't going to work. Support agents should be able to formulate answers quickly and coherently under these limitations.
Who does it well: Amazon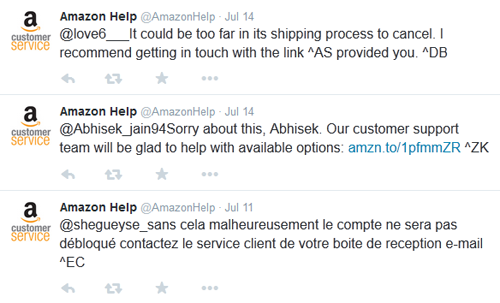 One of the reasons why Amazon is a leader in support is due to their ability to solve a problem on the spot – in multiple languages! If further assistance is needed, there's always the phone number, email or private message.
6. Response time is faster
For every minute, hour or day a support request isn't addressed; the negative ramifications of that silence may be increasing. Whenever a brand is mentioned, Twitter and Facebook shares this with followers of both parties. The danger of staying silent is that unanswered posts give customers a pretext to share their negative experiences. One of the reasons why social media is so attractive is that silence is deadly to the company – and blessing in disguise for the customer.
Who does it well: KLM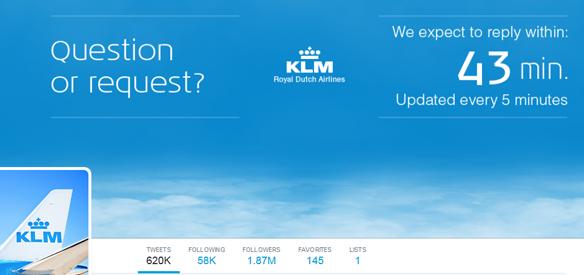 Back in 2009, Dutch airline KLM saw social media as friction mitigation when everyone else just saw background noise. Today, their average response time is updated on-site and averages at 40 minutes. It's not a stretch to say that KLM put Twitter on the map as a support tool, emerging as a leader for brands in the airline industry (and beyond, for good measure).
7. I'll get the right answer
Sometimes all a customer needs is a push in the right direction. A community post or article is just what you might need to turn a frustrated customer into a happy one. It's important to keep the company knowledge base library organized and within your support agent's reach.
Who does it well: Zappos
Retailers such as Zappos have always included a link to their product pages in replies to provide context to their replies. This strategy isn't always followed by the most socially attuned brands.
8. I can count on friendly, human service
When support agents introduce themselves or sign their name, the company cares for its customers on an individual level. Zappos and Netflix are known for their cheerful and particularly outgoing support agents. UPS is known for a photo gallery on their Facebook page that helps put a face to the name of their support team.
Who does it well: OnStar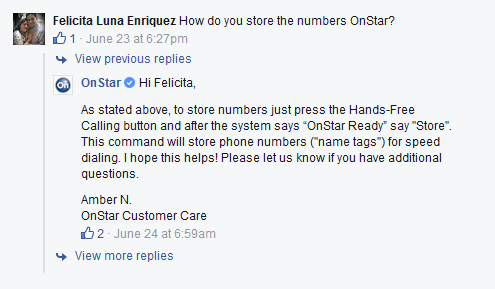 I've noticed that OnStar support agents regularly greet customers with their name and sign off with their own in the end, a much needed personal touch on Facebook.
9. I know what their support hours are
Everyone knows it's impossible to man your support system 24/7 without having a large team scattered all over the globe. If you're an airline, bank or a major retailer, it's important to offer this type of service to alleviate stressful situations for your customers.
In most cases however, constant account monitoring may be a waste of resources. Since many don't staff support agents around the clock, companies need to communicate clearly when they'll be around to help.
Who does it well: Chase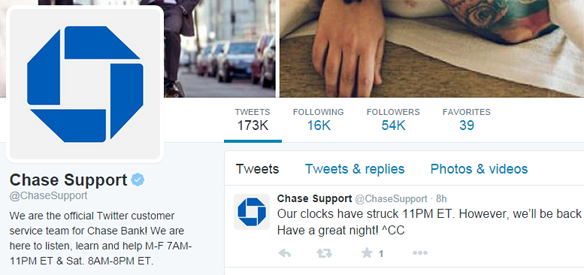 Customer service on social media is never easy due to the sensitive nature of personal financial information. The folks at Chase clearly know the ropes: they want customer to know where they are, when they'll be there, and how to reach them.
10. A tweet is solved before it becomes a problem
Various social media tools empower brands to tackle problems before they turn into problems. As something unique to social media, this is known as proactive customer service. If you want to take customer service higher, look into brand sentiment and competitor analysis tools. In most cases you don't even need any fancy gadgets – just an ability to listen to your brand and competitor mentions.
Who does it well: UPS

UPS does an excellent job of social listening and proactively responding to customer requests at every mention. They even jump in at mere mention of delivery times and shipping rates – something that makes UPS synonymous with service.
11. Problems are turned into opportunities
No one ever looks forward to receiving a complaint. Instead of dreading complaints, companies should turn them into an opportunity. When you acknowledge a problem, you turn a toxic situation around with attention and accountability. This is a great way to build awareness and drive conversion in the social media sphere.
Who does it well: Whole Foods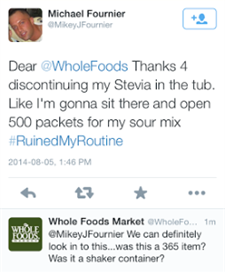 source: Sara Burke
It's rare to find a grocery chain with such a large social media presence, but even rarer to find such customer engagement. Not only that, Whole Foods has the most active Facebook, Instagram and Pinterest accounts in the industry – greatly increasing the reach and exposure of their products.
12. In the end, it pays off for everyone
It's no secret that social media customer service has been growing by leaps and bounds year over year – but did it pay off? Internet Retailer's 2015 Social Media 500 Report is a study of how 500 leading merchants use social media reports that these big bets were worth it. On average, follower and fan counts were up 33% from 2014, and total commercial sales have increased 26% year over year. Customer service on social media has paid off in the form of awareness, sales and market share across all industries, starting with airlines and ending with automotive dealerships.
And there you have it: 12 compelling reasons to use social media for support and why brands, too must engage socially to succeed. It may take some time and resources to establish your strategy, but in order to be successful, businesses must hook up to social media and make a point of listening – one customer at a time.
This article was contributed Vitaliy Verbenko. Vitaliy is a Marketing and Support Advocate at Helprace, a help desk and customer service software. He has been into customer service ever since he co-founded a small construction company five years ago. He holds a BA from Canada's Ryerson University.