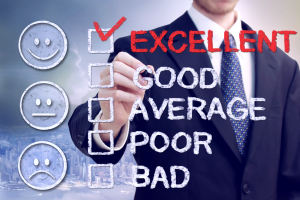 Whatever your business is, your customers don't really care how good and unique your products or services are. Unless they are 100% satisfied with the level of the customer service they get from your company, they might easily switch to your competitors in a blink of an eye.
To grow your business and stay on top in today's highly competitive marketplace, you have to realize that it's the Customer Service that really determines your business success. Statistics says that over 50% of U.S. consumers switched their service providers in 2013 due to poor customer service experiences, as stated in the Accenture 2013 Global Consumer Pulse Survey. 
That's both bad and good news for you. The bad news: providing lousy customer service is the fastest way for your business to lose customers and revenue. The good news: excellent customer service that beats your competitors will keep your customers coming back and bring you new ones through referrals. But to achieve this, you really need to serve them right and make sure your customer service always shines. Here's how:
1. Be there when they need you
Today's consumers are much more demanding than you might think. They are impatient and expect quick customer support whenever questions and problems arise. Do you still rely only on phone and email? Guess what? These traditional customer support channels are no longer enough. Implement Live Chat support on your website to be easily reachable for your customers and available for quick help, especially when things go wrong. This is what today's consumers strive for.
2. Empower your customer service team
As they say "If you think it's expensive to hire a professional to do the job, wait until you hire an amateur." There's nothing more frustrating for your customers than dealing with unknowledgeable, unprofessional customer service reps. That's why you need to make sure that your customer support team is properly motivated, trained, authorized to solve customers' problems and equipped with the right customer service tools to provide fast and efficient support.
3. Treat each customer like a VIP
Socially connected and empowered consumers can easily make or break your brand. It was recently estimated that a satisfied customer will tell up to 3 people about his positive experience with a company. While a dissatisfied one will share their lament with 8-10 people and some will even push that number to 20. Word-of-mouth is truly very powerful. Treating every customer like a VIP will make it work FOR your brand, not against it.
4. Shift to proactive customer service
For many businesses, the default approach to customer service is still to solve the problems as they come up. But today's demanding customers expect businesses to be more proactive to their needs and requirements. Companies that are truly customer-focused provide proactive customer service and organize their processes and systems around their customers' needs rather than their own. As a result, proactive customer service strategy leads to increased customer satisfaction and loyalty.
5. Under promise and over deliver
As Tom Peters once said, "Exceptional customer service is not about getting what you expected, it's about getting what you didn't expect." Customer service that goes beyond expectations, is a surefire way to turn your customers into devotees who will be happy to spread the good word about your brand. Which is why your customer service reps should make every effort to deliver a little bit more than what is expected or previously promised.
Are there any other steps to making customer service shine that you would recommend? Feel free to share!

Latest posts by Mary Shulzhenko
(see all)