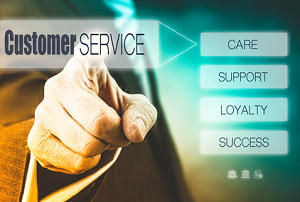 Rumi, the ancient Sufi mystic and poet, used to write: "If you desire healing, let yourself fall ill, let yourself fall ill". I like this quote. In my understanding, it means that in order to experience true health, which is our natural state, we need to undergo a certain cleaning. We need to remove things which don't belong to the natural state, which become barriers to our experiencing it.
I think this wisdom can be applied to all aspects of our life. When I try to apply it to my work and my aspiration to create a perfect customer experience, I realize that a perfect experience doesn't need to be created. More often than not, to make our customers happy we just need to remove things which stand in the way of effective and positive communication between us as companies and our clients. In a way, it could also be called a cleaning process, or healing process. And the first step is, to recognize these barriers which obstruct the ideal experience, or to let yourself as a company fall ill, which means allowing space for mistakes and for their recognition.
Below are 10 most common and most significant mistakes which Provide Support team recognizes in our own interaction with clients and which we are trying to avoid. I hope some of these points will drive your attention where perhaps it is most needed at the moment and will help your customers to have a truly outstanding experience with your company.
1. Indifference
How a customer service agent is approaching a client, his/her attitude toward the client is extremely important. It may seem that some technical aspects of how support is being offered have bigger impact. However, in my experience, the quality of a personal interaction between the agent and the customer always has bigger contribution to how customer evaluates his experience. This is also confirmed by the results of Genesys Global Survey, which show the 78% of customers say that competent customer service reps are most responsible for a happy customer experience.
In my opinion, indifference lies at the root of all other barriers to a great customer experience. It is what nurtures slacking and creates a negative impression in customers, that's why I put it as the first and the most significant barrier to outstanding customer experience. I recommend reading these 2 posts here  and here if you would like to dig into this problem deeper and how you can solve it.
2. Inattention
The natural consequence of indifference, inattention to the voice of the customer also creates a negative impact and make the customers feel as if their business is unimportant to you. Customers want to be heard no matter whether they use live chat or phone to contact you. Not only they expect you to understand their problem and offer a solution, but they also want you to hear their feedback, their complaints, compliments and suggestions. They want you to notice what they say, react to it and respond.
3. Lack of commitment
A lot of the times a customer's issue requires a follow up. I've seen many cases like this that a customer service agent and a company as a whole do not have the necessary commitment to lead the customer to the end and ensure that his problem is solved and the customer is satisfied.
Perhaps it is even worth having a separate person in your team who would be dedicated to the monitoring of this situation and making sure that follow up with customers is performed where it is needed.
4. Poor team work
Some of the more complicated customer service issues imply a second interaction. It may happen that the customer was served perfectly well during the first one, but when his issue is escalated to another person, or he gets in touch with another team member during a second interaction, he experiences disappointment. The need to explain the issue a second or third time, or sometimes different answers, different interpretations of the company policy given by agents, can greatly diminish customer experience.
Make sure that your team is strong and gives consistent experience to the customer. All members of the team should work in cooperation, every link of the chain supporting the next one. Unite your people by inspiring them to give their best to clients.
5. Overworking
A few customers shared with me that whenever they contact support, a lot of the times their problem is interpreted to be larger than it is. In fact, 80% of the customer service issues concern the basics of your product or service. They don't require any special skill or knowledge or even investigation on the part of the agent.
Overworking the problem can be as damaging as underworking it. Good knowledge of the product or service, attention to the customer's explanation of the issue and some degree of intuitiveness will help the agent to see the real scope of the problem and give the fastest and the simplest solution.
6. Scripted communication
Customers desire authenticity and dislike overly scripted service. Many companies, unfortunately, deviate into scripted communication with their clients. Partly, it happens because it is easier for companies like this. It also happens because companies don't trust the discretion of their employees that they can sort out the client's problem. So they give them canned responses to send to customers.
To break this vicious circle, as a company you need to have trust in your people and their potential, their interest to be of help to you and the customers. And secondly, you need to inspire them. Inspire them to trust in themselves and be creative. Creativity is hardly needed when communication happens in the present moment, when it is not prepared in advance. How to inspire creativity in your agents, read on in my other post here.
7. Inconvenient access to support
Technical aspects, of course, also matter in the customer experience. You need to make sure your clients have easy access to support when it is needed. They will highly appreciate the convenience.
How can you ensure easy access to support? Put yourself into your clients' shoes and browse your website. See if you can find the contact options on your website and all of them are working and your agents are responding. Taking care of the technical side of it is not so difficult, but it also takes some time and dedication.
8. Lack of customer personal data or insufficient use of it
Customers find it important that the company has access to their previous transaction history and their personal details. Recent CX Act's research revealed that the degree to which customers' information is used by the company to provide a personalized solution is in direct correlation with the degree to which customers perceive their support interaction as quick and easy.
Not collecting any customer information, as well as collecting but not making use of it is equally damaging to how customers perceive your support. Make sure that you are asking your customers only that information which is needed and you are using it to the maximum to provide better service to them.
 9. Low first call resolution rate
Statistically, if customers get a solution to their problem in the first call, 92% are likely to continue using the company, 86% are likely to recommend the brand, 88% are likely to spread positive word of mouth about the brand. This leads to much higher levels of loyalty and advocacy, better perception of your company. There are way too many benefits to low first call resolution to ignore this factor. Check out our nice infographics on how to measure and improve your first call resolution.
 10. Delayed response
Nobody likes waiting. Long hold times are one of the most frequent cause of complaint and dissatisfaction by customers. This seems like the easiest thing to fix. However, many companies still overlook this important aspect of good service as fast reaction to a customer service request. It is like getting back to basics in customers service, that's why I put this factor at the end of my list.
There is a lot of work ahead to eliminate all the above mentioned barriers and allow the perfect customer experience to happen. Perhaps, your company has already overcome these and is struggling with some other issues?
Have your voice in the comments and let us know what other barriers to outstanding customer service you think are significant and important to overcome in your business.

Latest posts by Maria Lebed
(see all)