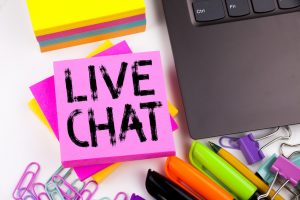 There's no doubt that in this increasingly digital era Live Chat has become the number one support tool for many businesses from different fields and industries. Small start-ups, mid-sized companies and major corporations use it to handle customer communication. Whatever the company size, they enjoy greater results in terms of customer satisfaction, mainly driven by high user adoption and minimum support needs.
What makes Live Chat so compelling to customers and why do more and more people prefer it over phone and email? And still, why do so many online consumers rate their typical live chat experience as poor? Let me share with you the top 3 pro arguments and top 3 worst attitudes to avoid. Look to these indicators to figure out how Live Chat can come in handy for your business, and what you should definitely bear in mind if you opt for this support solution.
3 Fundamental Reasons Why Customers Appreciate Live Chat
1. Instant Access
It's quite natural that today's consumers tend to spend more time online and expect information literally at their fingertips, they reluctantly break in their online experience to make a reach for a phone to dial a number, or switch to an email client, or get a pen to put something down. That's especially true when they can see a Live Chat Online button following them as they browse a website. Why interrupt the journey if there's obviously someone available to answer a question or handle a request? For those who want no distractions, Live Chat seems to be a perfect communication channel that keeps their online experience smooth and seamless.
2. Direct Interaction
Customer expectations have been evolving rapidly, and one of the most essential features they expect today from their online experience is immediate service. If there's a channel that provides an instant answer and quick solution, they willingly opt in to it in order to save time and skip waiting. The new online reality has raised the bar on customer service response time from hours to seconds, and this is the main reason why email and even Facebook Messenger are viewed by today's customers as more time-consuming and less efficient channels.
3. Personalized Experience
Modern consumers also expect that they do not have to explain much as they start a chat with a support agent online since the latter can easliy find out their browsing history and relevant product details through the website visitor monitoring tool that is usually part of the Live Chat software. And if they need to contact the Live Chat support more than once, they really anticipate that the customer service representative would be able to pick up the interaction about the same issue right where they last left off, with no need for the customer to go through the whole story again.
Top 3 Things Customers Hate About Live Chat
1. No Response
Sadly, too many consumers describe their poor experience with Live Chat as trying to contact online support when there's actually no one available to chat. That's particularly striking when a pop-up invitation to chat keeps chasing the visitor around as they browse the website. Needless to say, nothing frustrates your website visitors more than the fact that your Live Chat support is left unattended while the information on the website states there should be someone on the other end to respond. Few small and mid-sized businesses can run their online support 24/7, but it's absolutely crucial to set proper customer expectations, specify true-to-life operating hours on your website and always turn off the feature when your team is not available.
2. Slow Handle Time
Pretty much as with being put on hold during a phone call for an indefinite period, online consumers hate being left waiting and wondering how long it would take to get their request addressed. Long wait time is reported as one of the main reasons why customers decide not to come back, actually.
A well-trained customer support agent can chat with 2-4 visitors at the same time with no compromise in quality, however, if more than that needs to be handled, it will inevitably cut down on average response time and overall customer satisfaction rate. Anyway, if your online support team has to handle more than 4 chat sessions per operator at peak times, we recommend to reconsider your staff's work schedule and allocate more resources to handle chats.
3. Poor Post-Chat Experience
Your customer interaction, actually, doesn't end the moment when both operator and visitor close the chat session. There are two things often overlooked since they take place after the chat conversation, nevertheless, we insist on taking them seriously. Don't forget to ask for a feedback and be sure to provide an option for follow-up. Modern online consumers expect that their feedback really matters and appreciate an opportunity to rate the service provided. They also willingly leave their comments on service quality and suggest what can be improved. One more thing, providing the option to get chat transcripts via email also greatly contributes to increased customer satisfaction and better Live Chat experience.
Over to You
Are there any other things you would like to add to my list? Would you like to share your thoughts and ideas with our blog readers? Let me know in the comments below! And as always, thank you for reading our blog!
Provide Support is a leading software provider in customer service, offering live chat and real-time visitor monitoring tool for websites. Empowering customer service with live chat www.providesupport.com

Latest posts by Julia Lewis
(see all)