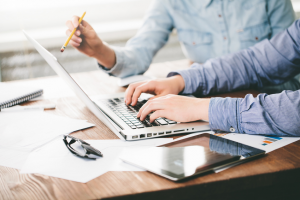 As per an Accenture report, – only 23% of B2B companies achieve impressive returns on their customer experience investments. In addition to that, only 20% generate low or no return, indicating that an alarming 57% are not exactly benefiting from the CX strategies. This brings us to a very pertinent question- Does CX really matter in a B2B segment?
To begin with, a customer centric approach is the way forward and it is equally relevant in both B2B and B2C settings. Buyers are more informed, and they look forward to greater engagement and transparency. However, the approach, rationale and implementation of CX strategies vastly vary between the two domains.
Key Differentiators – B2B vs. B2C
Lengthy sales cycle
Due to high sale touch points, sales cycle in B2B domain is very lengthy. Multiple stakeholders are involved in the buying process; as a result, sales cycle could stretch to several weeks or even months. On the other hand, in B2C dealing, buying is almost instantaneous.
Limited Scope of Referral Marketing
Many business customers are resellers and as a result are less likely to act as referrals. Competitive zest of businesses is yet another reason that limits the possibility of referral marketing in a B2B set-up. This calls for a re-imagined social media strategy to influence and reach out to B2B customers.
Lack of Customer-centric Organizational Structure
Industry statistics indicates that most B2B marketers are more focused towards product or channel and only 23% have a customer-centric organizational structure. In the e-commerce, banking, finance and hospitality industry, CX is a default strategy. However, in a B2B segment, CX is prioritized after gauging external factors – competition analysis, economic reasoning etc.
From Wrong to Right
Although, 86% of executives regard customer experience as a vital component of B2B marketing, but only small number of organizations are getting it right. What is the reason for this gap? The inability to fill the space between priority and execution is the biggest hurdle. Most B2B businesses are more focused towards the product capabilities and ignore customer journey and expectation. To reverse this situation, B2B marketers need to overhaul the CX approach.
# 1 Think Like a Customer
As a corrective measure, B2B organizations need to put themselves in the customer's shoes. What does a customer expect at each buying point (since purchase processes are usually very lengthy). This is known as customer journey mapping. Some relevant action points in this direction are as under:
Identify customer expectation throughout the buying journey (set realistic goals, timelines and targets)
Prioritize accountability and adhere to key deliverables and timelines (late deployment or execution can lead to negative CX)
Simplify internal processes and communication so that it does not have a bearing on customer experience
Review delivery model (plausibly improve upon them) to ensure that customer expectations are being met
# 2 Place Customer Retention and Acquisition Strategies on Equal Footing
Acquiring a new customer is at least six times more expensive than retaining existing ones. B2B businesses must understand this. While going ahead with new acquisition plan is great, keeping the customer happy and satisfied will guarantee better business goal. It is important to note that up-selling and cross-selling is easier with the existing customer base.
Businesses need to take active measures and assign dedicated account managers to continually communicate with the customers. In case of escalations, the response time should be minimal. These inputs are incremental in improving customer experience.
# 3 Acknowledge the Complexity of B2B CX
We have already established that B2B buying is a very complex process. Multiple layers of stakeholders and executives are involved at every step. There are compliances issues, budget constraints, security concerns, internal protocols, etc. To offer smooth CX to B2B customers, enterprises must anticipate these issues in advance.
Besides regulatory compliances, B2B organizations must also understand the organizations dynamics of the B2B customers. For example, at the initial stages of the buying process the strategic decision makers (CEO, Directors, and VP- Marketing) are involved; however, at the time of execution, the project is taken over by the executives of the organization.
Who is the targeted user persona and how to map them with the organizations CX strategy? A clear position on these questions is mandatory.
# 4 Divide the Onus of CX across Departments
Under the milieu of B2B organizations, CX should not be the responsibility of a single entity or department. The responsibility should be equally divided across departments. The product, sales, marketing teams and account managers should work together to identity the hurdles and challenges that come in the way of smooth customer experience.
Concluding Thoughts
Customer experience strategy is somewhat more complex in B2B domain when compared to B2C. Businesses should not solely focus on customer outcomes and instead work on bringing a change in organizational culture, people and thought leadership. The rewards of a sound and well executed CX strategy can bring in great results. B2B businesses can no longer ignore CX. Top management should personally get involved in shaping and executing CX activities to get desired results.
Author:
Kamna Datt is a CX expert and contributor at Ameyo, one of the leading customer experience solution providers. Her expertise lies in tracking and analyzing trends in the CX and customer service domain and assist businesses to develop and understand key strategies through her writing.