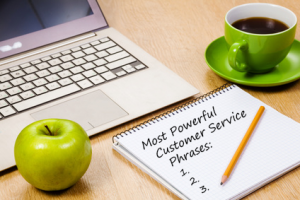 Whether you talk to your customers face-to-face, over the phone or in live support chat online, what you say and how you say it matters a lot to your business. Believe it or not, the right language is truly important in Customer Service. Certain words and phrases can either make or break the whole impression and the way a customer is left to feel after the conversation.
Here's my personal list of the most powerful phrases in Customer Service that I believe can make a difference to a company's relationships with its customers:
I am sorry / I apologize
It's probably the golden words of customer service that can turn even an unhappy customer into a loyal brand advocate. I had to experience lots of situations when companies that failed to deliver on the promise went into excuses straight away instead of just admitting their fault and simply apologizing. Whenever something goes wrong, even if it's due to circumstances that are beyond company's control, 'I am sorry' is the very first thing a customer wants to hear. Always. Explanations, solutions and promises to make things better next time come second.
Thank you / I appreciate your business
"I appreciate your business" is even more powerful and a step above 'Thank you'. Words of gratitude will make your customers feel appreciated for their loyalty to your brand. It might sound so obvious, but how often do you get thanked for being a customer, especially a loyal one? There's never too much gratitude in customer service. That's why we should take every opportunity to thank our customers for choosing us over the competition and for their trust. After all, there is no business without customers – and no successful business without loyal customers.
I will do/ I will take responsibility
Whenever people turn to customer service reps for help, they don't know if they are actually dealing with a company CEO or with a customer service agent trainee. Every singe person a customer contacts with is the face of the company in the customer's eyes. Your customers don't care if you don't know how to fix their problem or if you are not authorized to do it. It's your job. They expect you to do whatever it takes to be done. If you really don't know / can't do it immediately, promise to find out how and just be that person who takes responsibility and someone a customer can rely on.
Yes
Although being honest is absolutely necessary for building trust with customers, it would be better to admit that you don't know / can't do something in a positive language. I'm fully confident that a plain 'No' should be excluded from the customer service vocabulary once and for all. Being a 'yes-person' is a much smarter strategy in customer service. Even if you really have to say 'No' there are so many ways to say it without leaving your customer disappointed.
My pleasure
When customers say 'Thank you' in most cases they hear 'You're welcome' in response. While there's definitely nothing wrong with these words, still it's just a standard way to respond that doesn't actually express any meaning and emotional significance. Instead, using 'My pleasure' would make that slight difference and let your customers feel more valuable. For a customer it would sound like 'I was really glad to help you' which is much more pleasant than just a meaningless cliché.
Is there anything else I can help you with?
This simple, yet powerful phrase conveys genuine care and your willingness to go the extra mile to make sure that your customer gets completely satisfied. Showing your immediate readiness to help before you even know if any other problem exists is a great way to end every customer interaction. Remind yourself regularly: a customer who leaves happy, satisfied and well-cared for is more likely to come back and spread the good word about your business far and wide.
I'm sure there's nothing new for customer service people in the listed phrases. Still, we sometimes let our emotions, ego or just old habits get in the way of choosing the right language when talking to our customers.
Which phrases do you consider the most important in customer service? Feel free to share them in the comments below.
Provide Support is a leading software provider in customer service, offering live chat and real-time visitor monitoring tool for businesses: www.ProvideSupport.com

Latest posts by Mary Shulzhenko
(see all)