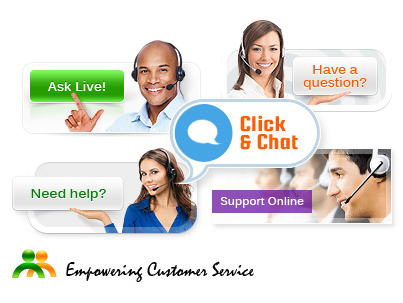 Increasing sales is the main concern of all business owners around the globe and there are different techniques for achieving this. But customer service remains one of the most important components of successful and profitable business. If online shoppers love your store, your sales will boost and on the contrary, without customers and sales, no business will survive in this world of tough competition.
Easily accessible customer support options or..
Your transparency and easy-to-access customer support options will attract your customers and will let them know that they can trust your Company. The main rule of thumb is to let users contact you with a click and get immediate solution to their concerns. If your Live Chat button stays most of the time offline or you do not have enough stuff to handle chat requests and often make your customers wait in a queue – it's better not to offer Live Help support in this case at all. As there is nothing worse than waiting for a chat reply or listening to music while calling a toll free number.
How to choose the best Live Chat icon.
When you start offering Live Help assistance, consider those vendors who offer a rich set of Live Chat icons and allow uploading your custom ones. Provide Support Live Chat provider has different options for uploading chat icon images: you can either select any set of icons from the gallery, upload your custom images or use different Live Chat icons on different website pages, whichever you prefer. Additionally, adding Live Help button to a fixed position is also possible.
Advanced Settings for Live Chat buttons
Placing different chat button images is not the only useful feature – you can also hide the offline chat button during your offline hours or redirect visitors to website pages with web self-service options. Alternatively, your customers can send you messages via the Leave a Message Form. Though they are sent as ordinary emails, for users it is more convenient and faster as they have confidence, their messages will be delivered to the right contact.
Be Visible to Your Customers
Placing Click to Chat button to the right position on your website page and making it visible to all website visitors is the main task while integrating the Live Chat tool. Because if the chat button is not visible to the customers, whey will not see it and thus will not have a possibility to contact you with their concerns. If you do not have some specific area on your website page, you can add your Live Chat button to a fixed position on your browser window, for example, to the bottom right corner or simply utilize special script for a text chat link, which can be inserted to your top menu or to a drop down list with contact options. In addition to website integration, Live Help button can be inserted to your email newsletters and social media platforms.
Have not decided yet? You can always address your questions to Provide Support's 24/7 customer service team and get individual recommendations and suggestions for utilizing Click to Chat tool.