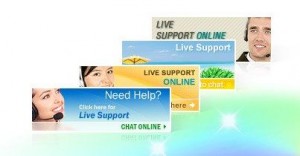 Would you like to conclude deals right after your customers receive your email newsletters or promotions? There is a simple rule of thumb – let your customers contact you directly from emails. You can include a chat button or a chat link to your outbound emails to allow your customers or prospects to easily contact you.
Email signatures help you share not only your basic contact info, but also direct hyperlinks to your website, social networking sites, live chat or your YouTube videos. Incorporating such links in an email signature has become a standard marketing technique to help you promote yourself or your product with every message you send.
A chat link can be added to your signature and this option is supported by all email clients. However, if you would like to add a chat button to your email signature or stationary, please make sure that your email client allows adding HTML there. We have prepared some instructions for the most popular email clients:
Leave here a comment or contact us in our 24/7 support chat or by email if you would like us to prepare instructions for your email client.