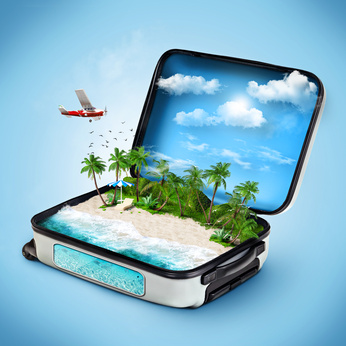 Before the advent of the Internet, travelers only had the choice of relying on conventional travel agents in brick and mortar offices. In recent times, they turn to the Internet in order to get recommendations and choose best offers. With consumers having access to so much travel information at their fingertips via the Internet, travel agencies have to face the challenge of competitive environment like never before. Your competitors are only a few clicks away! That's why providing superior online experience to your website visitors is nowadays so important.
With Live Chat software on your website you can let them feel that you are incredibly responsive and reachable, and this will definitely help your business stand out of the crowd! In this article we would share some tips to help you adapt to and thrive in today's competitive environment where travelers expect personalized attention, good value, and the convenience of the Internet.
1. Delight your customers with personalized approach
Live Chat software gives you a great opportunity to differentiate yourself from self-service online solutions and instead give consumers highly personalized service, recommendations and advice right from your very first interaction with them. The majority of Live Chat systems provide you with the option to take a look at visitors details to better understand what kind of travel they are looking for even before they ask their questions or request a quote. With the Real-Time Visitor Monitoring feature you can in no time find out which keywords they used to get to your website and which pages they have browsed before contacting you.
In addition, you can give your online support warm personalized touch by using real names and photos of your customer support staff in Live Chat. The impression of friendliness and personability will make your site visitors feel as though they are sitting across the desk from you while you are sifting through the information to locate options that are best suited to their budget and taste.
2. Make online communication fast and efficient
Most agents have plenty of opportunities to be more efficient in their online communication. While some tasks like developing a custom itinerary or pricing a quote might take you some time, you can use a rich set of Live Chat features to accelerate your online communications and make a great professional impression. To name a few, you can transfer files such as pictures of travel destinations, hotel accommodations and maps of foreign cities during the chat session; send links instead of explaining and describing the details; use pre-written "canned" answers to give instant responses to common questions, and hot key combinations to make less mouse clicks while operating the Live Chat Operator Console.
3. Stay in touch with existing customers and prospects
At the end of each Live Chat session, you receive a detailed email transcript of the conversation in real time. This enables you to promptly follow up with each potential customer and gives you a powerful resource for further communication. Not only you can use the database of chat trasncripts to follow up with a brief review of the conversation shortly after the chat, you can also get in touch with the clients to ask for their feedback after coming back from holidays. This information can be used to help your business thrive in the future as well.
If you choose to get back to them with an email follow-up, we strongly recommend that you add a Live Chat link or button to your email signature. This would give your customers and prospects the option to contact you back within a click of a mouse from any device connected to the Internet. And besides, this way you let your customers know that you really care about their experience.
We hope that these tips will help you combine your knowledge and experience with exceptional customer service in order to maintain and expand your client base. We'd be glad if you test all the features described above on your real website with real customers with our 10-day free fully-functional trial. You are also welcome to share your thoughts and ideas on any other best practices that you have been able to use with a Live Chat system for your travel business.

Latest posts by Julia Lewis
(see all)