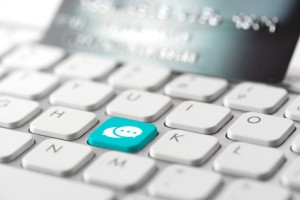 More and more websites offer live chat support today so that their customers can get immediate and thoughtful service whenever they need. However, sometimes like many other tools live chat is being misused and customers instead of receiving smooth and pleasant customer experience leave the chat room angry or disappointed. Why does this happen? You cannot ignore the fact that live chat etiquette already exists and customers expect specific behavior and attitude. When the pattern is broken customers feel frustrated and rate your service as poor.
Chat conversations can be easily saved and shared on social media, like this happened with Amazon's dissatisfied customer who spread the word about negative experience with one of employees. To avoid such situations you need to train your customer service team to treat customers politely and with respect. In this blog post I would like to offer 10 tips for being polite on live chat.
Think and speak positively
Negativity can infect your team like a disease and will reveal itself in various situations triggering bad feelings and mood. Positive attitude and thinking on the other hand lead to great mood and improves employee performance. With negative thinking lots of stress-producing hormones are released. These hormones influence the normal functioning of your brain and do not let you think clearly. Just get rid of negativity in your day-to-day work life:
Avoid saying "NO". No business can give every customer a yes every time. However saying "NO" from the very beginning of the conversation will bring more negativity while delivering bad news. Wrap your bad news in positive phrases, offer an alternative and apologize.
Create positive atmosphere in your office
Smile while chatting with customers
Focus on what you want to achieve
Reward yourself and your team for great job
Offer empathy
While chatting with angry and frustrated customers the main task is to diffuse the situation. Empathy statements allow you to establish a connection with the person in chat room. These statements create trust and mutual understanding. Here are a couple of them:
"I would feel the same in your situation, let's see how I can help you…."
"I know how frustrating it can be, we will do our best to sort this out…."
It is important to show that you are on your customers' side and you are their advocate.
Ask permission
If you need some time for investigation, would like to push URL or invite your co-worker to assist you during the chat session, ask a permission to do so. E.g.:
"Would you mind holding while I am checking your account details?"
"May I invite our technical specialist for better understanding of your issue?"
"Would you like me to navigate you to the page with detailed product description?"
If you need to transfer a chat, explain clearly why you need to do this and who will assist your customer further:
"I am sorry, my shift is over, I will invite my co-worker Jane Smith to assist you further"
Thank for reporting bugs
If your customers come with a detailed bug description, with a feedback about your products or services or with feature suggestion, thank them sincerely and follow up after the bug has been fixed or a new feature released. In such situation silence is a killer. Any type of warm thank you will be appreciated. You can reply with a "Thank you for bringing this to our attention" or preferably "We really appreciate you taking time to report this issue".
Sound helpful, not patronizing
Helpful can sound patronizing when said in the wrong way or at the wrong time. Kate Nasser has a great article on this topic and offers excellent recommendations for avoiding patronizing tone while communicating with people.
Keep in mind that not all customers want to be treated the same way as you want to be treated. Listen to your customers and find the best approach to them after analyzing carefully their needs. This will help you not only to be polite on live chat but also will show that you care about people.
Never keep your customer waiting
Silence in a chat room is something our customers will never accept. Keeping them waiting is the worst thing you can do. Follow these rules if you want to treat your customers with respect:
Respond to a customer within two minutes of customer's latest response
Accept an incoming chat request within one minute after it has been initiated
Check in with a customer if a customer has been unresponsive for two minutes
Close the conversation properly
Proper chat conversation closing is as important as a greeting. It is not enough just to say goodbye. There is an established scenario for closing the chat conversation in live chat etiquette:
Thank your customer for the time taken to discuss their issue
Ask your customer if the issue has been resolved and if there is anything else they need assistance with
Say goodbye
Forget the words "I don't know"
Not knowing the answer to a question is a difficult scenario for anyone to be in. However, this is not the situation when you should say "I do not know". Your customers do not care that you do not know something. They expect you to provide them with a solution.
Calm down and find this out for them. Phrases like "Give me a moment I'll find this out for you" or "Let me quickly check this for you" will not reveal that you are helpless here or do not know something. They will show your effort to assist and take care of the issue.
Use proper grammar and spelling
Ensure your customer support team has excellent grammar and spelling skills. Otherwise your customers will think you do not value them and your entire business will seem unprofessional.
Stay on topic
Do not lose the track of conversation even if a customer wants to discuss something else. Your main goal is to solve a customer's issue. Steer the conversation back in a polite manner and continue working on the customer's problem.
The bottom line
According to Accenture survey 66% of consumers switch to other brands due to poor customer service. That is why excellent customer service level should be the main goal for any business. Good customer service leads to more benefits for your business such as improved customer loyalty, increased sales and greater reviews. That is why it is important to remain professional and be polite on live chat. Customer loyalty will be the greatest reward for this.