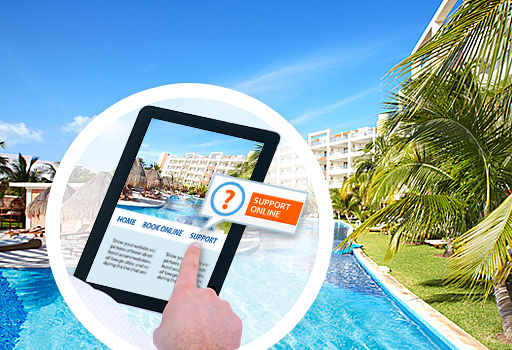 Holiday time is a hot time for hotel service stuff. In those hotels which want to get more profits during this time, everything should be top class. All guests get the first impression about the hotel while booking the room and on this very first stage it is vital to exceed expectations and offer high quality support to future residents.
How easy is to make online hotel reservation?
Today more and more travelers prefer making online hotel reservations as this is fast, easy and convenient way. In addition, this gives a guarantee that the needed room is booked and no possible mistakes or misunderstandings which may occur while booking by phone are made. And what if your future guests have questions, are you ready to give them immediate reply and clear their doubts? 24/7 Live Chat service will be a great help tool on your website for those travelers who would like to ask questions or need assistance in completing online reservation.
Let your guests feel welcome from the very first minute
The first impression about your hotel is made when your future guest first comes to your website. Greet your visitors and offer them your assistance with Live Chat invitations. However, be careful and send invitations wisely, avoid automated sending and invite only those guests who have already browsed your website for some time. Answer their Live Chat inquiries in a polite manner and avoid robotic replies. Ensure your support agents are always available and there is enough staff to handle all requests fast and efficiently. If your guests have to wait, then the main sense of offering Live Chat assistance is lost, as Live Chat tool promises immediate answers.
Add some flavor to your chat conversations
Do you keep a database of your customers? I bet you do. Live Chat software gives an ability to pass additional data about your visitors from the website scripting to agents' consoles. This way your customer care stuff will recognize your regular or even VIP guests and will approach each case individually, adding something personal to make them feel welcome in your hotel. If you can show concern about what matters to your customer, you will acquire a customer for life.
Impress your potential guests with your offering
Plain phone conversation does not let you show your potential guests all your hotel offerings and it is difficult to describe in words all beauty of the ocean view or show Louis XIV furniture design of your rooms. With real time chat you can navigate your visitors to the needed website pages, send them links or files during chat sessions. Unleash their imagination, let them dream about coming holiday and all enjoyments and treats waiting.
"Your most unhappy customers are your greatest source of learning." – Bill Gates
Do you analyze your failures to meet customers' expectations? When running successful hotel business it is vital to keep on improving everything – your offerings, service, room decorations. The best source for learning are your guests' complaints. The book of complaints is a standard way to collect feed-backs from your hotel guests. But what about those, who have not finished with online reservations? Do you know the reasons why they have not come to your establishment after chatting with your staff? Rate Support option provided with Live Chat tools will offer your visitors to fill out the Post Chat Survey form after the chat conversation. Later you will be able to view those comments and draw the right conclusions for improving your services.
Just give it a try and see how Live Chat software will help you to improve your customer satisfaction and will win you more customers and increase your sales.