It is no longer a secret that customer service plays one of the leading roles for any business today. Together with marketing and sales teams, customer service agents fight for new customers, product reputation and brand awareness. However, when it is easy to see effort of marketing and sales teams, the results of customer service representatives are not that evident and sometimes require measurement. For this purpose, exist standard customer service metrics which we would like to describe in our blog post.
Customer Satisfaction Score (CSAT)
To measure how your customers are happy with the service provided by your team, you can use customer satisfaction score metric (CSAT). It is based on a question "How satisfied are you with the experienced you had with our company?". To calculate the CSAT, you need to divide the number of those customers who gave a positive response by the total number of responded customers. The result will show you how satisfied were customers with the experience they received. 
You can collect these details with help of the post chat survey and then view details in the chat agents stats application.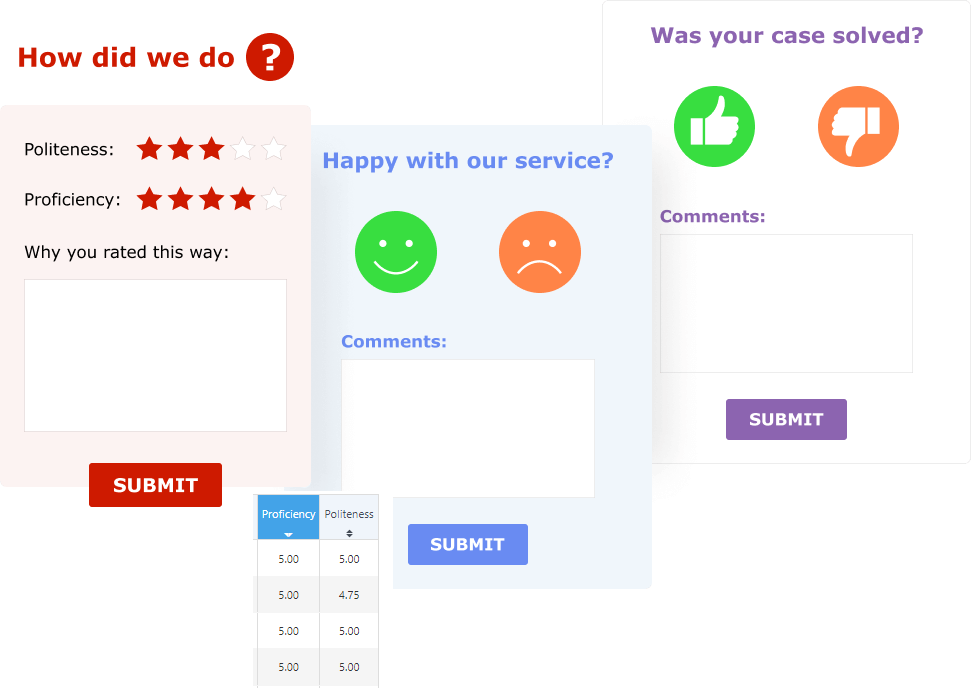 Customer Effort Score (CES)
CES shows how much effort customers need to put in to have their issue resolved. This is the response to the question "How easy was it to have your issue resolved?". The best way to calculate the results is to offer a scale from 1 to 10 and then get the average.
The score will show how efficient is your customer service team and whether there is a smooth interaction between departments if several of them should be involved to resolve the issue.
Net Promoter Score (NPS)
NPS helps to measure the customer loyalty. To get these metrics you need to ask your customers how luckily they would recommend your product or service. The response is taken based on the scale from 1 to 10 and as a result we get a percent of "promoters" (rates from 9 to 10) and "detractors" (rates from 0 to 6).
In addition to measuring your customer loyalty, you can use this metric to ask your employees if they are happy with their job and if they would recommend your company to their friends or relatives.
Customer Churn Rate
Customer churn rate shows the percent of users who stopped doing business with your company over a certain period of time. It is not possible to get rid of the churn completely since there are many not related to your product or service reasons which force customers to stop doing business with you. Such type of churn is called involuntary. On the other side, voluntary churn is caused by dissatisfaction with products or services provided. Keeping an eye on this rate will help you understand whether your company is growing or dying.
In some cases, it is hard to notice the real scale of the problem. For example, you have a successful marketing campaign which brings you thousands of new customers monthly. Thus, your income grows. However, if you calculate the churn rate you may see that the churn rate is high which means that there was a one-time interaction with your company.
To make business successful, all your departments should work together and provide high quality of the service. If your marketing and sales teams do wonderful job and win new clients while other departments suck, customers will never become loyal and your business will lose even more because of the purchases that will never happen again.
Average Response Time
Average response benchmark depends on the channel:
Live chat – 48 sec
Email – 1 hour
Twitter – 15 minutes
Facebook – 1 hour
SMS – 40 sec
Phone call – 20 sec
With the growth of customer service role about 90% customers say that it is important for them to get an immediate response if they have issues or questions.  For many customers a short reply time indicates that you care about them and do your best to provide excellent customer service. In Provide Support live chat system it is easy to check the average response time rate. This metric is available for each live chat agent in the statistics app.
Agents load
It is important to keep the information about your agents load at your fingertips. It will show you not only the number of chats, emails, phone calls or resolved tickets. You can track the load during the day and add more staff to cover busy hours. In Provide Support live chat system, the agents load is calculated based on the assigned or accepted live chat requests. You can easily get this information in the statistics app and add to special grid to have a visual representation.
First Contact Resolution
FCR metric will show how efficient your customer service team is and how seamless is communication between departments. Solving customer issues is not a simple process of questions – answers. Sometimes, it requires a more complex approach and involves several departments and even managers.
FCR is a ration of issues resolved from the first try and the total number of inquiries. A high FCR indicates your team does a great job. However, a low rate shows that you need to make a number of certain improvements.
How to measure customer service performance on live chat
Performance of live chat agents can be measured with help if special chat stats tool and results provided by customers in post chat surveys. Chat stats app allows measuring the load of agents, how efficient they are and how well they do their job.
For live chat agents you can get the following metrics:
Average chat response time
Chats load
Missed chats
Total chats
Average reply time
Messages in chat
Chats acceptance rate
Messages in chat
Post chat survey lets customers answer questions about the customer service quality. Based on the information provided in the post chat survey results you can calculate customer satisfaction score and customer effort score.

All statistics collected from the post chat survey results, agents and departments reports will help you plan the schedule of your team, provide additional training if necessary and improve interactions between departments.