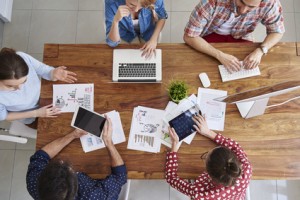 Strong communication skills have always been critical for career success. In customer service, an ability to communicate clearly and effectively with customers is more than just a nice skill that is desired to have. In fact, it's an essential that ultimately defines the whole team productivity and customer satisfaction.
Most customer service reps realize how important their communication styles are for creating a strong company image to their customers. They do their best to communicate clearly and professionally. And yet, sometimes they still fail to effectively do it.
This blog post is aimed to take you to the basics and help you understand how, why, and where communication can break down. Use these tips to improve the quality of your everyday communication with people at work, be they customers or colleagues, subordinates or superiors. Most of the tips listed below are fairly common knowledge down the ages, and they still hold true in the online world when teams work remotely and customers use Live Chat or emails to get their enquiries answered.
Hope these tips will allow you to communicate smarter, achieve greater productivity and avoid embarrassing misunderstandings in your business communication.
1. Keep It Simple And to The Point
There's a verse in Ecclesiastes that reads, "The more the words, the less the meaning, and how does that profit anyone?" Indeed, overly verbose statements require more time to comprehend, and tend to annoy people rather than add a professional touch to your messages. If you want someone to understand and remember what you are saying, make it concise. As the famous KISS principle clearly demonstrates, most systems work best if they are kept simple rather than made complicated.
2. Be Positive
Maintaining a positive attitude has always been one of the simple keys to success in all facets of life. When it comes to effective communication with others, you can achieve better results by simply using right wording. For instance, using a positive sentence structure encourages more interest and engagement. In other words, positive statements are easier to understand and accept. The same holds true for questions. Asking a negative question (e.g."You don't have Word installed?") often creates confusion. It would sound far clearer and leave less room for ambiguity if you frame it positively or keep it open-ended.
3. Listen Actively
Active listening implies giving full attention to the speaker as well as timely and appropriately responding to what they are saying. In direct person-to-person communication, you can always count on the magic of eye contact, and react with a smile, a nod, an "I see," to give the other person an indication of connection and understanding. In an online conversation, it's about being fully involved, responding promptly and avoiding distractions. Take the time to read the other person's message carefully and make sure you get them right. If you need some time to investigate something or just make a response statement, let them know you're still involved and focused on the conversation.
4. Avoid Interrupting
Nobody likes to be interrupted. We all know from early childhood that it's rude to interrupt a person while they are speaking. That's especially true in case of angry or frustrated people. If a customer has a complaint, allow them to speak their mind and do not interrupt them. When you listen to your customer's story and take into account all information provided you will faster find a solution and avoid irritation while assisting your customer.
Another common mistake that customer service agents frequently make in online conversations is firing multiple questions at customers without waiting for answers to them, or sending out pre-written messages faster than customers can read. To ensure your online conversation reads like a human interaction, avoid mirroring babbling bots patterns and relying too much on scripted stuff.
5. Check Understanding Regularly
Constantly monitoring conversation for understanding is a common good habit of all strong communicators. In online conversations, one hardly can read between the lines and never got misled. It's a good practice to paraphrase the other person's statements to make sure you are on the same page. If you notice any cues indicating that the other person doesn't understand your point, go back to the last point you received confirmation they did, and then start it over in smaller, slower steps.
6. Use Visuals
What is worth a thousand words? A picture! Strong communicators use the power of visuals to convey and connect their ideas more effectively, and – undoubtedly – to save time. Screenshots, illustrations, charts, and tables can be a valuable addition to your message, especially when it comes to providing technical assistance online. They can save hours of Live Chat conversations for people who find themselves technologically challenged or just want to get it all done at once.
7. Add an Extra to Delight
Something extra always looks good. Wrapping up a conversation with "Is there something else I can do?" is a perfect habit of good communicators. In fact, there's always something you can offer in conclusion – for instance, going into more details if the situation requires it; making a reference to a helpful resource; stating exactly when the customer can expect to hear back from you, or just telling you would be glad to help again any time later. Your willingness to do more than expected is a great way to show your respect and make a good impression.
Over to You
Would any of the above tips help you communicate more effectively at your job? Would you like to add or share any other tips or tricks to avoid miscommunication in online customer service? I would love to hear from you, so please leave a comment below. And as always, thank you for reading our blog!
_____
Provide Support is a leading customer service software provider, offering web chat and real-time visitor monitoring tool for businesses

Latest posts by Julia Lewis
(see all)