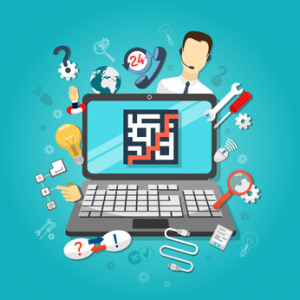 As the technology continues to change and advance at an extremely rapid rate, we all in customer support have to deal with people who find themselves being challenged by new methods and updated technology. Looks like a great deal of upset customers contacting tech support would rather cling to the old familiar ways considering the changes are not worth it at all.
Another bunch of people calling for help use technology on a "need-to-know" basis, and feel overwhelmed and frustrated when it comes to anything outside their expertise. Professional line of communication means you willingly provide high-quality tailored support to every user, regardless of their level of expertise. After all, it's customers who keep us tech support agents employed. No matter which way you look at it, all of them are worthy of our time, respect and attention.
Handling requests from technologically challenged customers takes up extra time and effort, as in many cases they call for assistance to get a solution but instead find themselves even more confused by complicated technical terms or complex troubleshooting process steps. It's your job to make it painless and easy, without piling on more questions, concerns and frustration.
So how do you go about handling customer interactions of this kind? Without a doubt, you need to use the communication style that emphasizes patience and respect. Creating an individual approach for solving this exact problem and satisfying this exact customer is absolutely the key. It's also important to remember to load your questions or break your instructions into single-step pieces and constantly monitor conversation for understanding.
While standard pre-scripted responses might be of little use in such cases, having some useful tips right at hand will help you handle customer requests more smoothly. In this post I would like to present some guidelines on how tech support agents can best handle customer interactions with those technologically challenged. This list is in no way complete so we invite you to add your tips and ideas in the comment section.
Narrowing down the problem
When a customer reports a problem, it might sound like "are you guys having your system or servers down???", "something goes wrong, nothing works here!!!", "it stopped working and froze all of a sudden". In other words, a call for help that has very little to no information. Let's face it. As a rule you need to start with gathering information about the issue so after you greet the customer, get down to finding out more about the case.
–          Let me ask you a few questions to better understand the issue and suggest a solution
–          I will need to gather more information about the problem. Please answer a few questions
Then you can proceed with figuring out what is happening and what is the cause of the trouble by asking the customer simple questions like these:
1. When was the problem first noticed?
2. How often does it occur?
3. How can it be reproduced?/What did you do before it occurred?
Needless to say, you should ask these questions one by one and don't go further to the next point if you still have to clarify anything. In many cases after you get answers to these questions, you have more clues to assist the customer further and successfully resolve the issue. But if you believe you have to escalate the issue to an upper-level support technician, make sure you gather any other important details that might help get it resolved efficiently. It's also a common sense to ask the customer's permission to switch to another communication channel and provide an estimated time for follow-up:
– Have there been any software / updates installed shortly before the problem started?
– I will need to report the problem to an upper-level tech support member. May we follow you up on this via email?
– Please give me your email to contact you back
– You can expect to hear back from us with an answer to your question within 24 hours
Making the most of the info available
As I previously mentioned, it's no good to get things more complicated when you are dealing with a user who is already confused or upset enough. Avoid asking technical questions that require skills or knowledge beyond the user's capabilities, just make every effort to keep it as easy as possible. Fortunately, there are a lot of tools out there to make tech operators' life easier. For instance, in Live Chat you can find out almost all necessary information about the user through the Real-Time Visitor Monitoring feature. It gives you many helpful details like operating system, browser, internet service provider, location and many other details.
In case you can't take advantage of this feature for some reason (for example, when the visitor has left your website), you can still find the user agent information in the Room Details tab of the console, or in the email chat transcript which is sent out to your email after the chat session is closed. If you have any difficulties with interpreting the user agent details, we would recommend you to use this guide to get things clear.
Getting back to basics
Some day or other, we all have to deal with "too basic" questions. Take it easy, there're no over-the-top questions in technical support. Do your best to tell the user what to do and how to do it, in a way the user can understand. To sweeten the pill, let us share with you our favorite useful links, all in one place. Hope these will make your tech support tasks easier and help you keep your customers happy. You are also welcome to share this post to anyone that you feel will benefit from it.
2. How to find a recently downloaded file
4. How to change default browser
7. How to find out the list of plugins in a browser
8. How to find out your PC hardware information
9. How to white list a software with your antivirus
10. Other useful resources: whatsmyip, whatsmyos, whatsmyuseragent, whatismybrowser.
Over to you
Do you have any similar experiences supporting technologically challenged users? Tell us your story through the comments section, we would love to hear from you. And as always, thank you for reading our blog!
Provide Support is a leading software provider in customer service, offering live chat and real-time visitor monitoring tool for websites. Empowering customer service with live chat www.providesupport.com

Latest posts by Julia Lewis
(see all)