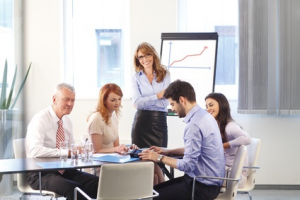 An effective customer service strategy is vital for building and growing a successful business, no matter the size or industry. If you're planning a quicker growth and bigger profits for your business in 2015, it's time to start rethinking your customer service strategy to get a jump on your competitors. What exactly can you do to make it better? Here are 6 steps to building a winning customer service strategy:
1. Make Outstanding Customer Service a Priority
How do you really think of customer service? If it's just about getting things fixed when something goes wrong – it's an after the fact, reactive attitude. Thinking this way might be harmful for your business. A proactive attitude is seeing customer service as a total experience, a process of engaging with prospects before and after they become your customers. When done right, customer service becomes your positive, long-term reputation. Make it a priority and ensure that everyone in your organization shares this vision and lives up to it consistently.
2. Treat Your Customer Service People Right
Great service starts with the people who deliver it. The way you treat your customer service people will directly impact how your customers are treated. If your employees are unhappy, why would they care about making the customers happy? Make them feel valuable and important to your organization, provide them with competitive compensation, benefits and friendly work environment where they can grow and develop, motivate and reward them for excellent results – and they will do whatever it takes to deliver great service to each and every customer. That's it!
3. Invest More in Your Customer Service
No matter how happy and motivated, your customer service people still need to be equipped with the right customer service tools to provide fast and efficient service. Customer service training for improving both technical and soft skills, is essential too. To truly gain a competitive edge over your competitors, make it an ongoing and consistent process. In fact, the most successful organizations invest in training while they already have great service. Don't wait until problems arise, make training more about achieving the next level of excellence instead of a means of addressing service issues.
4. Keep up with the Latest Customer Service Trends
Where is customer service heading in the next few years? Stay on top of emerging trends to be able to meet your customers' demands and expectations. Here's a couple of major customer service trends to watch in 2015 and beyond:
Proactiveness (Immediate problem resolution will not be fast enough as customers will expect companies to proactively address their current and future needs)
Personalization (Customers will expect companies to know better their individual needs and personalize the experience)
24/7/365 (Customers will expect businesses to provide service 24/7 to get instant answers and solutions to their problems right away)
Multichannel (Customers will increasingly expect to be able to contact brands through various channels, how they want and when they want)
Omnichannel (Customers will expect to receive a seamless and consistent experience even while moving between different channels)
5. Show Some Love to Your Loyal Customers
While getting new customers is essential for growing a business, truly successful businesses thrive on their ability to keep those they've already acquired. In fact, according to a study by Marketing Metrics, the probability of selling to an existing customer is 60 – 70%, that's why you can't ignore them. How do you treat your loyal customers? Do you think they will stay with you forever? Have you given them any reasons for that? Customer loyalty is something that has to be earned over and over again and never taken for granted. Special offers, discounts, treats, more flexibility in your policies, more personalized service or whatever – all those little things count in building relationships with your loyal customers.
6. Use Customer Feedback to Spur Innovation and Improvement
Constantly encouraging, collecting and analyzing customer feedback is the fastest and easiest way to find out where your business fails, what's important to your customers and where you should improve to meet and exceed their needs. It's also vital for measuring customer satisfaction among your existing customers. Apart from monitoring your current customer service channels and gathering feedback through social listening, you can also implement additional feedback tools to create all types of surveys and get that valuable insights as to how you can improve your products or services.
Take into account these 6 steps when planning your customer care strategy for 2015 to make sure that nothing gets in the way of making your customers happy and growing your business. Have something to add? All comments are always appreciated!
Provide Support is a leading customer service software provider, offering live chat and real-time visitor monitoring tool for businesses: www.ProvideSupport.com

Latest posts by Mary Shulzhenko
(see all)