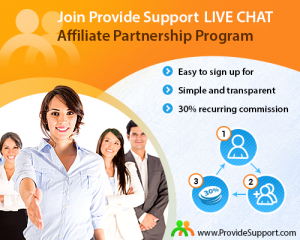 If you are a web designer, developer or just have customers who are interested in adding live chat software to their websites, Provide Support partner program is for you. Being in business for more than 10 years Provide Support Live Chat and Real Time Visitors Monitoring software has gained solid reputation and is known for its stability, rich set of features, support quality and reasonable pricing. You are welcome to join our affiliate program and start offering live chat software to your customers and receive generous affiliate commission from all payments made by your referrals.
Provide Support Partnership Model
To become our partner you do not need to purchase anything. When you register an account in our system, you automatically join the affiliate program and can use this account for your referrals tracking during the free trial period and after its expiration. 
Share your partner link which has the following look https://www.providesupport.com/partner/<your_account_name> or https://www.providesupport.com/p/<your_account_name> (without angle brackets) on your website, embed it into a banner or send your customers and ask them to use it when registering an account. Alternatively, you can add one of our banners to your website.
You can also register accounts for your customers yourself, just use your partner link to follow our website to ensure that all registered accounts are added to your list of referrals.
Track your referrals on special Partnership / Your Referrals page.
Claim your 30% recurring affiliate commission.
You will get paid as long as your referrals remain subscribed. This means affiliate payments do not end with the first purchase.
How to Track Referrals
Provide Support offers transparent referrals tracking – in your account Contort Panel you will see all referred accounts and their status. As soon as your referred accounts become active you will see this on your Partnership / Referrals page:

How to Get Paid
Whenever you would like to get your affiliate commission, check your commission amount or just ask questions regarding the affiliate program, use special form for this purpose. Your request will be processed within 24 hours.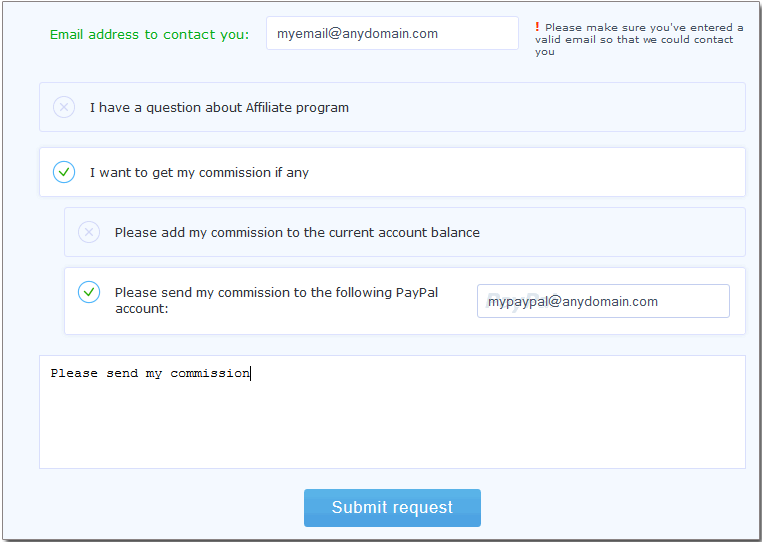 Benefits of Provide Support Affiliate Program
No hidden charges or additional investments
Fast and easy registration
24/7 support for you and your referrals
Generous 30% commission which do not end with the first purchase
Transparent referrals tracking system
Got interested? You are welcome to ask your questions in the comments to this blog post or use the chat button to contact our support team.