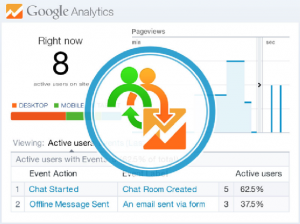 Provide Support is glad to announce new software improvements which have been implemented recently. They include not only new features but also server updates which make our service more stable and secure. Please take a look at the below features description.
Live Chat and Google Analytics Integration:
New feature of Google Analytics integration allows tracking as events initiated chat requests and sent offline messages. Two types of events are pushed to your Google Analytics account:
Chat Started – this event is pushed when a visitor fills out the pre-chat form and clicks 'Start Chat' button
Offline Message Sent – this event is pushed when a visitor sends an offline message
Pushed events are displayed in Real-Time / Events and  Behavior / Events sections of your GA report.
In addition to this it is possible to calculate Visitor Chat Messenger loads. This data can be checked in GA reports in Real-Time / Content and Behavior / Site Content sections as visits for the following URLs: /messenger/your-account-hash.html or /messenger/your-account-name.html
To enable events tracking you just need to follow Account Settings / Google Analytics Integration page and insert your GA tracking ID there.
Web Based Operator Console Updates
The simplified browser based version of the operator console has been also updated with new features:
Possibility to change console status from online to away. If an operator changes the console status to away, he / she will appear offline to website visitors and will not receive new chat calls, but will be able to finish all active chats.
File transfer feature. Operators can transfer files up to 100 MB from the web based console.
Possibility to add a greeting message when sending a chat invitation. When you send a chat invitation, you can type a greeting message which will make your invitation more personal and increase a probability that it will be accepted
Provide Support Account Control Panel Updates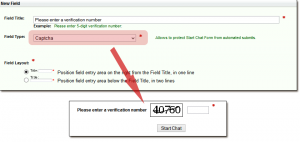 Captcha field. This type of field can be added to the pre-chat form to protect from chat messenger floods and bot attacks. It can be added on the Account Settings / Start Chat Form Fields page.

Referred accounts status tracking. This feature allows you to track the status of your referred accounts and see which of your referrals are active. You can check the number of your referrals and their status on the Home / Your Referrals page in your Provide Support account Control Panel
More updates are coming and we will be glad to inform about them at the nearest time.