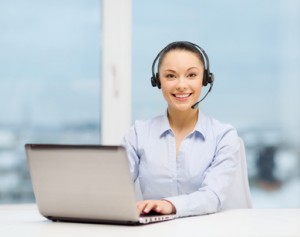 Live chat offers customers a convenient way to get in touch with a company and solve their issue there and then without too much direct involvement with customer service.
Customers appreciate the speed and efficiency of live chat, allowing them to find an answer to their question from the comfort of their desk. The many different features of this channel, such as co-browser, file transfer, URL push allow the support agent to provide a higher quality support. The users not only receive a more informative answer to their question, but also have the ability to save the chat conversation and refer to it if their issue requires a second interaction.
All these benefits contribute to the high satisfaction rates that live chat receives among other customer service channels. During a recent survey 73% of customers stated they were very satisfied with the level of support they received over live chat. High level of satisfaction with this channel suggests that users are more likely to return and use it again.
Key Factors to a Live Chat Session Success
With more companies adopting live chat, it is inevitably becoming a key part of the customer service journey. Companies developing their live chat customer service strategy need to take into consideration the 3 most critical factors based on which the customers judge a chat session a success.
1. Knowledgeability of the chat support agent
Customers want a quick and easy solution to their issue. 68% of consumers claim that having their issue resolved in the first contact is extremely important to them and if their company is continuously failing to meet this expectation, it will make them seek for another provider.
Additionally, 65% of customers indicate having to contact the company multiple times for the same reason as their top frustration with customer service practices. First contact resolution requires a high level of knowledge of the product or service that a customer service agent is supporting. Apparently, investment into agent training and skill development is the most critical step to earning customers satisfaction and building long-term relationships with clients.
2. Speed of live chat interaction
The two most common factors that take away from the quality of service and that are the most annoying to customers are long hold times and having to repeat the same information to multiple agents.
Consumer expectations for live chat channel are extremely high. According to eDigitalResearch study, 64% of users expect 1 minute or less to speak to an agent via live chat.
"One of the most important things a company can do for me is to value my time", – said one of the surveyed customers.
Ability to deliver on this expectation demands many resources from the company, starting from ensuring agent's knowledgeability about the company's products and services, to equipping the agents with the right support tools and refining the customer service processes to minimize the effort both for the agent and the customer.
3. Personalized approach
Customers don't want to interact with automated systems no matter how sophisticated they are. When contacting a company via live chat, they expect to have real person on the other end of the line answering their questions. 60% of users cite agent's friendliness and politeness the most important factor after agent's knowledgeability and speed of response.
Customers value when the agent actually listens to them, tries to understand their problem and offers a personalized response or solution. Overuse of script and canned responses greatly diminishes the quality of the interaction and does not allow a company to build an emotional connection with the clients.
Consumer expectation for personalized treatment urges companies to hire more personnel to attend their service lines, as well as invest more resources into quality training, giving special attention to developing soft skills necessary to establish a personal connection with every client.
To recap, what customers value the most in a live chat interaction is a quick and efficient service, and a human agent to speak to. This does not seem like a lot, and still, this simplicity demands quite a complex set of tools and developed customer service procedures to ensure great customer experience.
What procedures and tools is your company adopting to make knowledgeability, speed and human service possible? Please share with us in the comments.
If you would like to see how we live these principles at Provide Support, please feel free to start a chat with us at any time.

Latest posts by Maria Lebed
(see all)