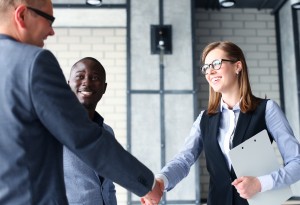 What, truly, is happiness? Is it the central purpose of human life? A mere byproduct of luck? Is it a psychological state, or a positive evaluation of being?
For businesses, the answer to all of the above questions is, of course, who cares. The only definition of happiness that matters is the one that applies to customers, and a happy customer is one that's loyal, that keeps coming back for repeat purchases, and one that recommends you to family, friends and social media followers. A happy customer is one that represents excellent customer lifetime value, and happy customers as a group represent a big impact on your bottom line.
According to a Gartner Group study, 80% of a company's future revenue comes from a mere 20% of existing customers. Furthermore, it reportedly costs six to seven times more to attract a new customer than to keep an existing one. The way to amass these all-important happy customers, then, is to focus on customer retention by improving your customer service. Here are few tips you might just want to consider:
Find out your precise customer service situation
In this age of analytics, there's no excuse for not knowing exactly how your customer service is going. A good customer relationship management software combined with customer satisfaction feedback in the form of customer satisfaction scores (CSAT), net promoter scores (NPS) and customer effort scores (CES) will provide data-driven insights exactly how your customer service is succeeding and, more importantly, where it may be failing.
Why do it?
The first step in keeping customers happy is keeping them from getting unhappy, which means identifying the pain points that exist in the customer journey. The detailed analytics available allow companies to identify customer service issues that may exist, and having such insight into issues allows quick corrective measures to be taken in order to retain valuable customers.
Set specific goals related to customer service
Every organization has key performance indicators, or KPIs, and every organization with customers needs to have KPIs related to customer service. KPIs related to how long it takes to respond to first contact, how long it takes to resolve an issue, how many issues are resolved on first contact, how often support calls are escalated, how many customer service complaints are filed, how many customers are lost and how many customers are satisfied by their support, all provide valuable benchmarks for employees.
Why do it?
Great customer service doesn't happen by accident. It needs to be prioritized by organizations, with employees knowing exactly what is expected of them and how to deliver on those expectations when it comes to interacting with customers. When solid KPIs are in place it not only tells employees exactly what they need to be working towards, but it also informs the customer service training and assessment an organization will undertake in order to maintain a high level of service, setting up employees as well as the entire organization for success.
Take some of those KPIs public
If you've set firm expectations within your organization in regards to response time and satisfactory customer service outcomes, and your customer service staff is committed to meeting or exceeding those standards, let your customers know. How quickly can they expect a response to an email, or how soon can they expect a callback from an agent? Is a resolution guaranteed? Eliminate customer support uncertainty by providing this information.
Why do it?
As AI-powered digital customer service solution providers Nanorep state in their advice on how to improve customer satisfaction, it's exceedingly frustrating for customers when they have to wait around to hear from a company, wondering if or when they're going to get assistance and if they're going to be satisfied when they do. Removing this doubt not only demonstrates a strong commitment to customer satisfaction, but it also increases a customer's confidence in a company when that company abides by or exceeds its stated standards.
Make the first move
With email signups, social media, text message opt-ins, messaging platforms, virtual assistants, chat bots, and so on and so forth, there are more methods than ever for a company to easily get in touch with customers. Instead of using those communication channels to send generic missives or basic marketing information, why not send a short message asking how a purchased product is performing, or soliciting feedback on a service? When managed carefully, proactive customer engagement can be majorly beneficial to a business.
Why do it?
A business typically only hears from 4% of its dissatisfied customers, with the other 96% going away and 91% never returning. If you wait for a customer with an issue to come to you, you might be twiddling your thumbs while that customer strikes up a relationship with one of your competitors. Simply soliciting feedback or checking in to ensure that a product or service lived up to a customer's expectations shows that customer how much your company cares about them, helping to form the personal connection that can be so instrumental in developing a long-term customer relationship and increasing the associated customer lifetime value.
If a tree falls in a forest
The philosophical questions surrounding happiness are best left to Aristotle, or perhaps the great thinkers that haven't been dead for over 2000 years. Businesses are better off focusing on the actionable insights on customer happiness and retention that can benefit the bottom line today, tomorrow and well into the future. After all, if an unhappy customer complains on social media and no one from a company is around to hear it, does that complaint make an impact? Oh yes.
——————-

This article was contributed by Anna Jones. Anna Jones is an experienced freelance writer specialising in the latest customer support trends. She is keen to provide tips to help businesses create the best customer support that they can!