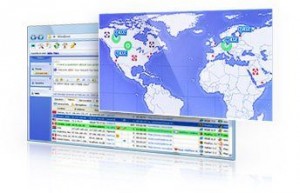 Did you know that with enabled Real Time Visitor Monitoring on your website it's possible not only to see visitors in your operator console but also to proactively invite them or follow their navigation with a Co-browser? But that's not all. Would you like to see the content of your visitors' shopping carts? This is fairly easy with Provide Support Live Chat system! What you need to do is just to use our special code for this – Passing Information Code and generate it for the variables you'd like to pass to your console. And then enjoy viewing what your customers have chosen to purchase in the Custom Fields Column of your console.
Apart from this, Real-Time Visitor Monitoring is helpful during your chat sessions with customers, it gives you a possibility to see what your visitors are up to, navigate them with a Co-browser and of course, see the pages they are on. If you provide technical support services, then information about your visitors' browsers and operating systems will be extremely useful and will streamline your support service process.
Real Time Monitoring tool lets you see the engagement level of your content. Analysis of visitors' activities will help you take the right actions for increasing your website traffic and make your website design more user friendly.
For businesses with an international market presence Geo Location tool, showing visitors' geographic distribution on a world map, will be a great visual demonstration of visitors from all corners of the globe.