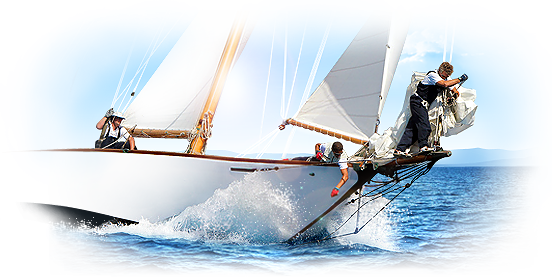 Have you ever heard of Engagement Marketing? It is built on a simple yet powerful idea of putting focus on connecting with your customers online and encouraging clients to tell your story for you.
Business owners have always relied on word-of-mouth referrals to grow their businesses. And nowadays, the new era of social technologies provides seemingly endless opportunity to turn customers and clients into engaged fans who spread the word about your business across a variety of online platforms. That's what Engagement Marketing is all about. Thanks to social media — and its nimble partner, mobile technology — your customers easily become part of your Marketing Team and help you drive repeat business and win new customers.
Engagement Marketing Cycle
According to Gail Goodman, author of Engagement Marketing: How Small Business Wins in a Socially Connected World, Engagement Marketing is a three-step process. At first, you delight your customers by providing exceptional service, then deepen your relationship with them via social media, and, as a result, existing customers come back more often, and over time, bring their friends along. Magic starts to happen when you follow the Cycle, and eventually you make a bigger name for your company, build your network, and take your business to the next level.
#1 Deliver a WOW! Experience
To begin the Engagement Marketing Cycle – and convert prospects to buyers – you first have to WOW! them with exceptional experiences. Good products, reasonable prices, and great customer service will definitely result in your customers loving you. You've worked hard to get that customer, but just like any relationship, you have to put in effort to make it last. In today's competitive world it's crucial not only to win a customer but also make sure you've done everything to retain them over the long term.
#2 Make It Easy To Keep in Touch
The second step of the Engagement Marketing Cycle is to entice people to keep in touch with you. You must make it really, really easy for the customers to connect with you just during or immediately after they've done business with you while the experience is fresh in their minds. By staying in touch you keep that great experience alive and let your company name be seen and remembered. Being out-of-sight means being out-of-mind, and out-of-mind means no business.
#3 ENGAGE People
The third and most exciting step of the Cycle is aimed at driving participation. Deliver interesting, relevant content that inspires your fans, followers, e-mail subscribers, blog readers, and other online contacts to interact with you. When the audience participates, especially on social networks, it creates buzz around you and your business. And as people "Like," comment, or share stories, their participation becomes visible to their networks (your new prospects!).
This wonderful book would be a great help for anyone who owns or manages a small business or non-profit. It is filled with practical, hands-on advice based on the author's experience of working with thousands of small businesses for over a decade. Gail Goodman states that with today's social media tools at your disposal opportunities and methods are limited only by your imagination and creativity. The most frequently used methods for maintaining connections are email marketing and social media platforms (such as your blog, Facebook, LinkedIn, Google+, YouTube, and Twitter).
Tools, Tips and Tricks To Take Your Engagement Marketing To The Next Level
The book Engagement Marketing: How Small Business Wins in a Socially Connected World provides plenty of useful ideas, tips and tricks on how you can increase customer engagement and grow your community. We would like to share our experience with you, too, and tell you about our favorite customer engagement tools. We assume that you are familiar with some of them already, but hope you'll find some new useful ideas here as well.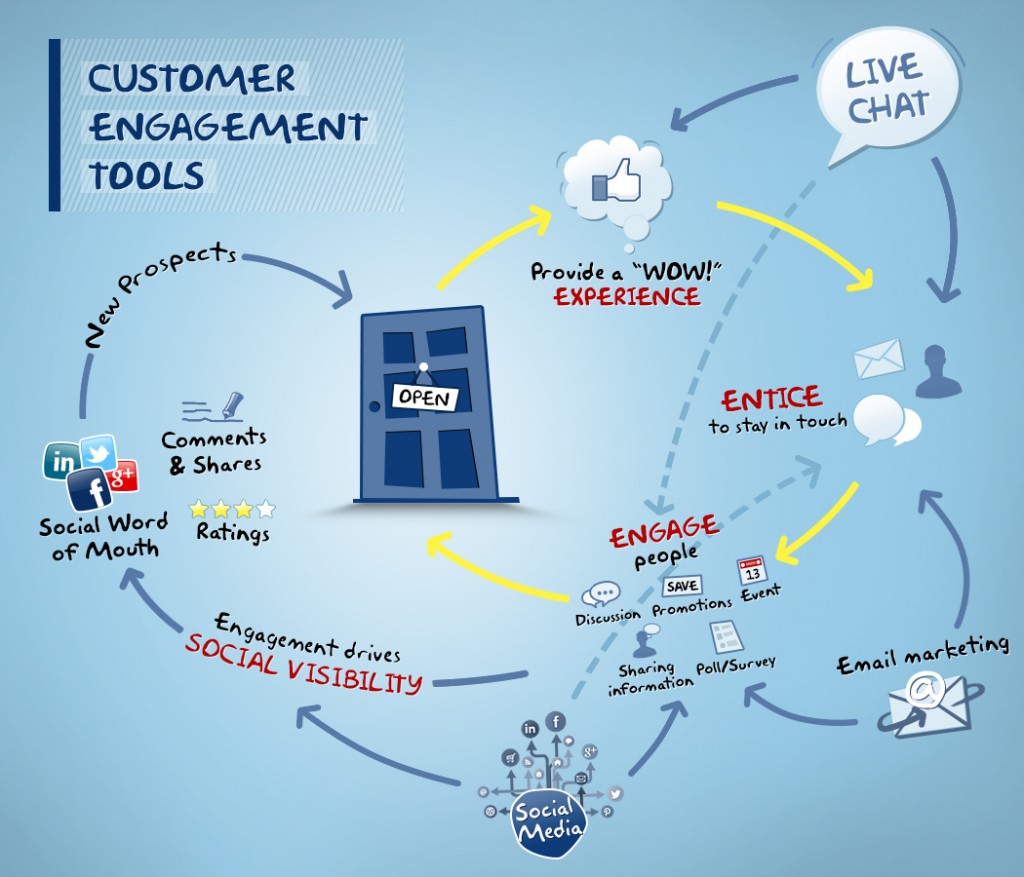 #1 Do you deliver a WOW customer experience?
How Good Is Your Website?
Check if your website appears correctly and fast enough. It pays to know what your website looks like in each type of browser and make sure your website load time is within an acceptable range. Use Browser Shots  to determine how it looks like and Loads.in to find out your load time.
Mobile Compatibility is Critical
It's undeniable that your website needs to be mobile-friendly making it easy to navigate from any device such as smartphones and iPads, and there are quite a few easy ways to accomplish this. In case your website is built on a publishing platform like WordPress, check the WordPress Mobile Pack plugin designed to transform your site into a mobile-friendly version when viewed from a smartphone or tablet. You might be also interested to take a close look at the free mobile site builder by Google .
How Is Your Customer Support Doing?
Standing out from the competition is increasingly difficult. What does it mean to meet or exceed customer expectations in terms of online customer service? Fast, smart and efficient! If you want your online customer service to be efficient and provide awesome value to your customers, consider adding Live Help software to your website. This is the easiest way to start providing superior customer support while cutting time and costs. Check this infographic to find out more about the power of Live Chat and how to take the most out of it for your business.
#2 Get Connected and Put Technology to Work
Make It Instantaneous
Have you made it easy for your customers to reach you and connect with you? Customers really prefer to get things done without any delays, and they would love to talk to a live person. That's why Live Chat Support is a perfect match for online communication needs when it goes to getting connected and staying in touch with existing customers. People are more likely to get back to your website when they know that a live person is easily and immediately accessible to assist them. You can also add Live Chat link to your pages in social networks (Linkedin, Facebook, Twitter, Google+) to let your followers contact you any time they have questions about your products or services.
You've Got Mail
You definitely can't do without an email marketing tool. Using it right from the start gives you much better control over your email list. Although there are multiple options available, AWeber has been a dominant tool in the field quite for a long time. If you would like to have other choices for your newsletter or email marketing campaigns, MailChimp, GetResponse and iContact are worth considering as well.
#3 Simplify Your Social Media Marketing with Great Tools
As the social media field is quickly developing and growing, so are the tools designed to help you organize multiple platforms and information sharing across them. While the features and levels of user-friendliness provided are different, all they get the job done and are great time-savers when it comes to organizing and simplifying your social media marketing.
HootSuite is the most popular social media management tool for people and businesses to run campaigns across multiple social networks from one web-based dashboard. You can manage social media, track conversations and measure campaign results via the web or mobile devices. With a suite of tools designed to enhance audience engagement you can streamline your social outreach and optimize your visibility across social channels.
We recommend this great time-saver to schedule content to be delivered over your pages in social networks. It lets you buffer content your find worth sharing into a queue for later delivery on Linkedin, Facebook, Twitter, Google+ so that it appear there on the optimal time to post. The Bufferapp also provides analytics about the engagement and reach of your posts.
This free tool lets you test your Facebook page to identify problem areas, the most successful types of posts and the most successful times of day to post based on your specific fan base – all in less than 10 seconds. This gives you an overview of how your page is doing with some information on how to improve it. You can also view other pages' results to find out how they have performed.
Monitor your brand or keywords on the web with Mention.net. This is an excellent social media and web monitoring tool which lets you receive alerts every time somebody mentions your name, brand or target keywords. It really pays to be able quickly track what's going on through the mentions in blog posts, forums, Twitter and Facebook and timely respond to situations that could damage your reputation.
This solution lets you maintain ongoing reports of social share history across all pages of any website. You can easily find out what content gets shared out the most, and where and how often it is shared. Use this valuable information to determine what type of content would resonate with your audience the best.
Agorapulse provides broad range of functionality to improve engagement and your presence on Facebook. It lets you benefit from an extensive suite of applications, and have page management and analytics in one platform. CRM functionality of the tool helps you collect additional information to build up a profile of your fans. Detailed analysis in relation to your page performance and engagement is really valuable to convert your fans to customers.
Amazingly, new tools providing more and more versatile and efficient functionality are popping up like mushrooms after a spring rain. Which of them have you already tried out and what are your favorites when it comes to customer engagement? We would love to find out about your experience. And if you have an innovative idea to share, we hope you will leave it in the comments below.
Provide Support is a leading software provider in customer service, offering live chat and real-time visitor monitoring tool for websites. Empowering customer service with live chat. www.providesupport.com

Latest posts by Julia Lewis
(see all)