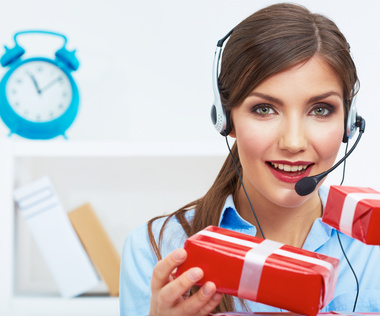 Hooray! Hooray! It's a Holi-Holiday! I am reminded of a good old song by Boney M and the festive season that is about to begin.
Busy time for entrepreneurship and for customer service! "Are there enough people to handle the traffic, are they ready to sustain the load? Is my channel decorated? Are all tools in place to make it fast, efficient, simple and effective?" – All these questions boggle the mind of every website owner a good few weeks before the show starts.
After all, busy holiday time is another opportunity to strengthen relationships with current customers and win over someone new. It's definitely a good time to do some extra work in this field.
Let's see what things you need to attend to while getting yourself ready for the big time.
5 ways to improve customer experience in the holiday season
1. Expand your customer service channels
More and more people are getting comfortable reaching out to a company via social media or live chat. Make sure you have those channels available for those clients who prefer them and also to reduce the load on your phone and email support lines. You never know how a new customer is going to stumble upon your website, so it's good to have quick availability across all places where you maintain your online presence.
2. Supply enough manpower to handle the increased volume of callers
Rush time is another name for the holiday. To show respect to your customers' time, ensure you are not making them wait in long phone or chat queues. Have backup for emergencies among your own staff, or hire a third party to help you during the busy times. When it comes to email responses, do your best to decrease the average response time from the usual 24 hours down to a few hours tops. Social media should be even quicker than that, so monitor your channels carefully.
3. Customize the customer experience
Make interaction with your website beautiful and pleasant. Share your festive spirit with the clients. It may be hard to do it on the phone, other than by instructing your reps for proper holiday greetings, but on social media and live chat channels you could do much. Here is an example of how you can decorate your website and social media channels with nice holiday-themed chat icons. You could also do holiday covers and special greetings to be included on your chat window, on social media and your email. Creating a memorable experience is important.
4. Provide additional training to your service agents
Customer service agents are people too. They may feel overwhelmed and stressed out if they are faced with an unexpectedly large volume of service requests. Boost their stamina, motivate them to show the best performance and most importantly, provide them with efficient tools which will allow them to effectively and timely resolve customers' issues. Provide sufficient technical training on how to use those tools and soft skills training to use the holiday time to engage with customers on a deeper emotional level.
5. Increase your availability
Customers are shopping day and night before holidays. So if you are not offering support outside regular business hours, try to stretch those a bit more into late evening and weekend hours. Ideally, you could work out a 24/7 schedule for your support team to last for at least a few weeks to cover all time zones and provide service to every single client. The more effort you invest during this time, the bigger return you can get, both short and long term.
Have you started your preparation yet? Go get at it and happy sales!
Provide Support is a leading software provider in customer service, offering live chat and real-time visitor monitoring tool for websites. Aiming for excellence in customer service. www.providesupport.com

Latest posts by Maria Lebed
(see all)