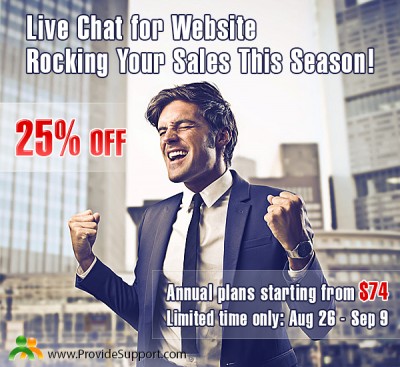 The back-to-school season marks not only a milestone for parents and students. It is the second largest consumer spending event for retailers right after the winter holidays. And according to recent surveys, retailers are anticipating a stronger back to school sale season this year. The end of summer and the first weeks of September are a great opportunity for just about every business to get new customers and increase revenues.
Even if you're not selling school supplies or clothing, there are lots of ways you can attract back to school deal-seekers to your products and services and increase your sales. Almost every business takes advantage of this event, and we hope you won't miss the opportunity to capture your fair share of the back-to-school market.
Apparently, a huge number of consumers will prefer online shopping as it can save them a great deal of time during the back-to-school rush. That is why a live chat tool on your website comes in very handy for assisting them and simplifying your customer support workflow throughout this busy shopping season.
What are the major benefits of having a Live Support tool on your website?
– Provide fast and efficient customer service
Today's online consumers are becoming increasingly impatient and demanding, they want exceptional customer service. A properly implemented live chat feature is what can help you provide that superior customer service by being easily accessible and immediately available whenever your website visitors have questions about your products or services.
– Reduce shopping cart abandonment percentage
It's not a secret that many sales are lost at the point of ordering. Lots of online shoppers become hesitant to complete a purchase if they have even one unanswered question, and it might lead them to abandon their shopping cart. With a live support option, you can assist them in completing sales by walking them through the whole process.
– Build trust and credibility
Live chat fosters confidence in customers. If consumers see a live chat button on your site, they will feel reassured that they will have easy access to a live person in case of any questions, even after the sale has been made. A chat button can also be added to your post-sales emails so that customers do not even have to return to your site to reach your live support team.
– Cut down time and support costs
Live chat saves money because it eliminates the need to maintain an expensive toll-free customer support number. Fewer support representatives are needed, since their time is used more efficiently due to their ability to easily assist multiple site visitors at the same time.
– Give your business a competitive advantage
In today's highly competitive marketsthe live chat tool is a must-have feature on almost any website. Having it on your site, especially when your competitorsdon't, may be the crucial selling point that compels your potential customers to choose your company over a competitor.
If you are not using live support on your website yet, try Provide Support Live Chat software by starting with a 10-day free Trial. And what's more, we're running a Back-to-school Promo from August 26 through September 9 and giving away 25% off annual live chat subscriptions. Hurry up to claim in our support chat your discount and bring your customer service to a whole new level!

Latest posts by Julia Lewis
(see all)