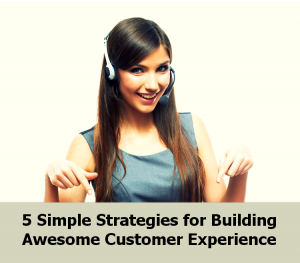 There are lots of 'little things' which customers notice while communicating with your customer support team, browsing your website and making a purchase. Such things form their customer experience, which can be either bad or good depending on how your customers feel while interacting with your company. There are various different strategies and recommendations which help to go above and beyond good customer service and boost customer loyalty. In this article I collected a couple of useful recommendations which will help not only to form a good customer experience but make it awesome.
1. Leverage technology to improve your customer experience
Today online consumers become more and more Internet savvy and tend to use different technologies for communication purposes. While browsing your website they expect to find convenient for them communication channels, mobile friendly website design, polite and efficient customer service. When designing your online store you need to take into account all these factors. In addition to this your customers will be happy to see a live chat button which not only lets them contact your customer care team right away when they have questions but also adds credibility to your brand.
2. Provide customer service across all customer support channels
Social media channels became integral part of customer service today. Customers use them to post complaints and ask questions. Thus ignoring them will do no good to your brand and will make a negative impact on the overall customer experience. But if you start assisting your customers via social media channels together with other available channels like phone, email, web self service and live chat, your customers will appreciate this as there is nothing better than efficient customer support.
3. Target your policy on retaining more customers
Loyal customers form your brand reputation. The more loyal customers you have the stronger your business is. To win loyalty you need not only to provide quality, you need to deliver exceptional customer service and be above and beyond your competitors. This would give a good reason for your customers to stay with you.
4. Improve your customer service strategy
According to Oracle Customer Experience Impact Report there are several tactics which companies can adopt to improve customer experience. While interacting with a company consumers expect the following:
• Friendly employees or customer service representatives (73%)
• The ability to easily find the information or help they need (55%)
• Personalized experiences (36%)
• Brands with a good reputation (33%)
According to this statistics delivering a consistent experience in all areas and on any stage of interaction will be a winning strategy. Being customer-centric helps to improve customer experience, earn customers' loyalty and make brand reputation stronger.
5. Pay attention to the 'little things'
Meaningful and memorable experiences influence the way customers perceive you and your company. Such little things which made your customers feel WOW keep them coming back over and over. What should you take into account when interacting with your customers?
Human touch. Recognize your customers and greet them with a smile on your face. Though they may not see it but they will feel it in your voice, notice in connotation in your texts. Live chat software gives an ability to monitor your website in real time and pass information about your customers which will help to recognize them and greet personally.
Attentiveness. Monitor interactions with your customers, do not forget to greet them when they have birthdays and offer generous holiday discounts. Your customers will appreciate this and will be happy to recommend your company.
Appreciation. Show your customers that you appreciate their doing business with you. There are different ways for doing this – early sale offer, discounts for loyal customers and various loyalty programs.
All your efforts aimed at improving customer experience and exceeding customer expectations will pay back with happy and loyal customers who will recommend your brand. This in return will strengthen your reputation and bring more customers. You are welcome to share with our readers some special treats you offer to your customers.
Provide Support is a leading software provider in customer service, offering live chat and real-time visitor monitoring tool for businesses: www.ProvideSupport.com