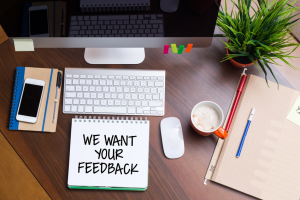 The times when customer complaints were seen as a distraction that should be eliminated are over. Most businesses today understand that complaints are a valuable source of information. In fact, there might be no better way to collect direct feedback from your customers. A complaint not only shows what and where went wrong, whether it's a problem with your product, service, customer support or internal processes. By hearing these problems and acting upon customer feedback you can improve your business and prevent similar complaints in the future.
Very often, though, dissatisfied customers don't give voice to the complaints. Actually, a study by TARP Research as far back as 1999 uncovered the fact that for every 26 unhappy customers, only 1 will bother to make a formal complaint. The rest will either stay where they are disappointed or will silently take their business elsewhere. According to another research by 1st Financial Training services, 96% of unhappy customers don't complain, 91% of those will simply leave and never come back.
A far more dangerous scenario is, however, when unhappy customers start spreading negative word-of-mouth instead of complaining directly to a company. White House Office of Consumer Affairs found that a dissatisfied customer will tell between 9-15 people about their experience. Around 13% tell more than 20 people, which leads to damage of reputation, loss of potential customers and revenue.
How often do YOUR customers complain? If you notice that you are hardly getting any complaints, you might get a false sense of security. But the truth is absence of negative feedback doesn't really mean things are going well and should not be viewed as a sign of customer satisfaction. So why do unhappy customers choose to remain silent instead of sharing their complaints with you? There might be 5 major reasons for that:
# 1 You never asked them for feedback
How do you know what exactly your customers like or dislike about your products or services without actually asking them? There are many types of questions you can ask your clients to get their feedback, but some of the basic ones should include:
On a scale from 0 to 10, how likely are you to recommend us to a friend or colleague?
How would you rate your last experience with us?
If you could change one thing about our product/service, what would it be?
When gathering customer feedback, whether it's a questionnaire after a web chat conversation or simply a follow-up call, make sure to choose the right questions that will provide you with valuable information. Skip the never-ending surveys and stick with a few simple yet most important questions, otherwise you risk not receiving any response at all.
# 2 It's too complicated and requires much effort
Most of unhappy customers won't bother to complain if it's too difficult and requires much effort from them. Ask yourself: How simple is the complaint process for your customers? How many steps does it take to complain? If you want your customers to speak up and tell you what's wrong, make it convenient and as easy as possible for them to provide their feedback. Eliminate any unnecessary processes or actions that would discourage customers from making the effort to complain.
When a customer wants to share negative feedback, and they run into hurdles and barriers trying to voice their complaint to someone, all they do is get even more angry. The result is a small problem develops into a bigger one, simply because a customer cannot find a quick and easy way to channel their anger, frustrations and concerns to your business.
# 3 They believe you don't care or there is no point
According to the Rockefeller Corporation study 68% of customers leave a company because they believe you don't care about them. This is also one of the major reasons why many unhappy customers never complain. They think it's a waste of time to provide feedback because the company is simply not interested in hearing from their customers. Some might have developed this sort of apathy from their previous experience, when they have complained in the past but nothing was done about it.
If customers don't see the point in complaining and believe that they are not going to get a satisfactory resolution anyway, why would they share their frustration with you? To change that, let your customers know that you truly value their feedback and that you will do your best to address their complaints and resolve their issues.
# 4 They simply don't want to bother
Some angry customers choose to stay silent due to their personality type. Instead of speaking up and voicing their complaints to the business that disappointed them, these type of customers usually don't see any need or desire to express themselves. It simply might be the most painless and least bothering option for them. Sadly though, those customers will probably end up with a competitor sooner or later, if the issue is not addressed proactively.
# 5 They are afraid of the possible outcome
One of the reasons dissatisfied customers will not complain is because they are worried of what might come next. Will they be penalized in some way or get even worse service next time? Will it have a negative impact on an otherwise good relationship with a business? Will a wrong employee be punished or even get fired because of their complaint? In order to avoid the possible outcomes keeping mute about the problem they encountered becomes much more convenient for them. Reassure your clients that voicing out their complaints won't have any kind of negative consequences.
Bottom line
Complaints are gold for any business. Are you encouraging your customers to share their concerns and frustrations with you? Making sure that you are easily accessible and welcoming to all types of feedback will help you improve through insight you may not otherwise be capturing. Always remember to thank your customers for complaining rather than lashing out or making excuses. After all, they've just helped you make your business better. And finally, take action to prove to your customers that their effort was worth their time.
_____
Provide Support is a leading customer service software provider, offering live chat and real-time visitor monitoring tool for businesses

Latest posts by Mary Shulzhenko
(see all)