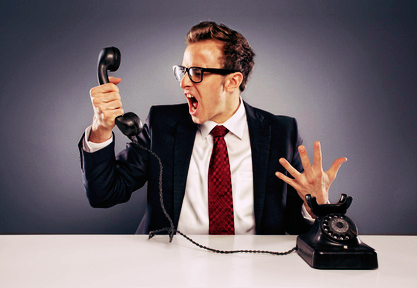 All businesses, even the most successful ones, will have unsatisfied customers every once in a while. But most of unhappy customers actually never bother to complain. They simply leave and switch to competitors without even letting you know when and how your company failed to meet their expectations. On the bright side, statistics says that 95% of those who complain, are ready to give you a second chance, if you manage to handle their initial complaint successfully and in a timely manner. So how to do it effectively and turn every complaint into a positive customer experience to win those customers over for life?
It's all about the attitude
The key to successfully dealing with complaints is in the right attitude towards them. As simple as that. In fact, customer complaints should be embraced and seen as unsolicited feedback which is always a valuable source of information about your business. Customers don't complain just to be rude or upset you. They do it because they've experienced a problem with your products, services or the way your business operates, and they're simply telling you about it. Why not use this customer feedback as an incredible opportunity for learning where your business could be improved? Here's 6 tips to keep in mind whenever you get a complaining customer.
6-step strategy for handling customer complaints
1. React immediately
Make sure that everyone who complains on the phone, live chat, social media or by email gets a rapid response. Even if you cannot provide an immediate solution to their problem, you can at least let them know that their complaint is heard, taken into account and that you're going to do your best to make things right as soon possible.
2. Stay professionally calm
No matter how angry or even rude the customer might be, you need to remain calm and listen without interrupting. While it's the most natural reaction to get defensive when attacked, 'winning' a confrontation is not going to help you in any way. Let them speak and express their frustration without taking it personally and losing your cool.
3. Get the facts and details
After letting them talk, take the lead and start asking questions to get as many details as needed to really understand the situation and the problem. It is important, though, that you avoid sounding too scripted and drop the formalities. Use this opportunity to start a genuine conversation and build a trusting relationship with a customer.
4. Acknowledge the problem
If your company really made a mistake, admit it, acknowledge the problem and take responsibility for helping a customer to solve it. I believe that it also makes a perfect sense to apologize. Saying sorry doesn't necessarily mean that you are personally taking the blame. It's more about showing compassion and understanding of their feelings and frustration with the situation.
5. Offer a helpful solution
Now that you know all the facts and a real problem behind a customer's complaint, it's time to offer a helpful solution. If you can't do that, pass the issue over to someone who can. If you are able to get things right quickly and effectively without letting them wait for ages, you'll get a happy and, most probably, a loyal customer.
6. Thank the customer
No matter how unpleasant the situation was, when customers complain (even if they do it in a less-than-desirable way), you still need to be thankful in the end. Once the solution is provided, thank the customer for bringing the complaint to your attention and giving your business an opportunity to improve. That is also how you let them feel important and valuable.
Minimize the reasons for complaints
Knowing how and being able to resolve customer complaints successfully is no doubt essential to your business success. But what's even more important is whether you learn from those situations and how you use that knowledge to minimize customer complaints in future. In other words, just do whatever needs to be done – improve your product, fix the process, train stuff or whatever it is. On top of that, be honest with your customers about your products or services in the first place, don't give them false promises to avoid unrealistic expectations and disappointment.
How do you deal with customer complaints? Feel free share your success stories below.
Provide Support is a leading software provider in customer service, offering live chat and real-time visitor monitoring tool for businesses: www.ProvideSupport.com

Latest posts by Mary Shulzhenko
(see all)