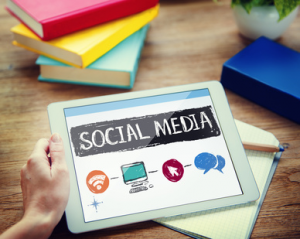 The automotive body repair shop is typically a dusty, smelly, male-dominated facility. Since the beginning of time this industry has been labeled as untrustworthy, legitimizing the status quo of caveat emptor.
Only recently have shops been trying to revolutionize the trade by offering clean facilities, wi-fi, coffee and play areas for kids. Some, like Toronto-based Hilary Ann started a crowdfunding campaign and subsequently launched an all-female auto body shop, Ink & Iron Automotive. Her business got every auto body shop in the city curious and talking about the changes it would bring. In other words, a single business can raise the expectation bar and disrupt the entire industry – forcing others to either adapt to new conditions or see demise.
Social media is really no different.
Once upon a time social media was seen as a gimmick no company out there took seriously. Consider that only a few years ago, a handful of players took huge bets by opening up Facebook and Twitter accounts.
The decision wasn't done on a whim. It wasn't about setting up a profile or account and forgetting about it the next day.
It required setting aside company resources, negotiating with board members and instructing employees to do things that might not pay off. Some companies took these risks because they knew that's where their target demographic was and that's the market they hoped to address. One of these companies was Comcast – hailed a pioneer at the time – launched their Twitter account @ComcastCares.
Soon enough other companies followed suit including Southwest Airlines, Whole Foods Market and shoe retailer Zappos. These brands established themselves as leaders in the social media world – all while their competitors didn't even know the meaning of a tweet.
Fast forward to today, the adoption rate of social media as a customer engagement channel has been growing by leaps and bounds. Customers aren't deciding whether to connect anymore – they've been connected for years and expect responses through social platforms of their choice. Today's question isn't "if" companies should respond to social media requests but "how" to ensure it resonates with the customer. Unfortunately, the "how" part is a constant struggle for many businesses.
Are US retailers making their customers happy with web-based support? That's what the 2015 multichannel customer engagement study by Epica tried to address. One of the components of the study was to examine customer expectations on three common channels: Facebook, Twitter and email. They have evaluated a total of 1000 customers using 500 company websites in 15 different retail sectors. They posed a simple question: "How long are you willing to wait for responses?" and compared the answers with raw data. The findings were shocking to say the least:
• Facebook – Customers expect answers within 6 hours, but average reply is 1 day
• Twitter – Customers expect answers within 1 hour, but average reply is 1 day and 7 hours
• Email – Customer expect answers within 2 hours, but average reply is 8 hours
With numbers like these, I'd be hard pressed to imagine any customer continuing their business with a company after waiting for a full day and a half for an answer to a simple Twitter question. The danger of staying silent is that it makes customers feel that a simple question or comment is being ignored – paving the way for disappointment.
Although the majority of customers can accept some wait times (and discrepancies in service), the fast-paced nature of social media coupled with thin-stretched company resources can simply be too much to deliver even the bare minimum. Here's why this may be the case:
1. Gaps in performance
Many companies can't seem to manage their performance gaps which in some cases extend to the same industry. In the previously mentioned study, one flower and gifts retailer answered 100% of the questions posed on the web, while another managed to answer only 10%. More surprisingly, there's no clear pattern why some companies respond faster than others.
In addition, some four retailers on Facebook responded in 1 minute, yet another four took a full day. This gap widens considerably on Twitter where customers expect answers within an hour, but don't hear from the company for over 30 – that's a day and a half in some cases! It's important to note that many customers also rely on Twitter for urgent questions such as next-day delivery.
2. Lack of resource allocation
It's about time businesses realize that people who interact with their brands on social media are the same people that email, call and reach out in person. Once companies understand that "John Doe" isn't just replying to their Facebook post – that it's also a loyal customer, they will better be able to see social media in a completely different way.
One way to address this is to optimize your social media strategy to work with all teams, processes and technology. This includes:
• Acknowledgement
If you need to reply to the customer with sensitive information, the right staff member can get a notification of a required tweet through email. This eliminates constant back-and-forth between your twitter and support account, speeding up internal communication.
• Escalation process
To avoid a backlog of customer requests, your business should have a "behind the scenes" team that can take on specific queries when needed. For a small company, this list won't be large – but there should be a knowledgeable team put in place to address these issues in a timely manner.
• Total company involvement
Depending on your industry, company size and type of requests, sometimes dozens of departments need to be in on that one tweet. This way, if there is a crisis or an urgent message that needs a response, it won't take days for you to form a response.
3. No single-channel strategy
If a customer reaches out to you on Twitter, they probably want an answer via Twitter, too. While customer service on channels where dedicated support representatives are available (such as chat) was quick, only 1/3 of retailers were able to respond on the same channel. Unsurprisingly, this contributed to the wait times experienced by the customer.
Companies that can't answer in the requested channel should never assume that the customer will check another channel. Ensure you close the feedback loop by giving the customer a reply. Even a simple acknowledgement such as "thanks for your response" is enough to make the customer feel appreciated and respected.
4. Failing to plan content
Careful content planning is paramount if you want to get the most out of social. A good way to do this is by coming up with a content calendar planning out your social posts a week in advance. There are three reasons for this. First, it allows your content to be organized and consistent. Second, a week is short enough to keep content relevant and long enough to avoid irregularities in posting schedules. Third, it allows you to adjust posting frequency, date and time of your posts. Most importantly, an active account showcases an approachable, legitimate brand. Customers will see that you are prepared for comments, questions or for an occasional chat.
5. Lack of "human touch"
It's said that when someone suffers a sensory loss, their other senses are heightened considerably. This can be explained why some call center operators can "hear" when customers smile at the end the line when talking to them. On the web, we only have written words to go by, so it's not only about spelling and grammar, but also about using the right words in the right situation.
More than that, web-based support requires more listening, reading between the lines and the ability gauge the urgency of requests. These difficulties are amplified in social media: it's more difficult to process larger amounts of noise while being human and not another canned response.
What does the future have in store?
The slow adoption of social media can be likened to the adoption of the internet two decades ago. At that time, very few organizations realized that having an online presence was important – a notion that seems almost ridiculous today. The social media environment is slowly being seen as a similar, public realm and the face of the organization.
As something so vital to many businesses out there, social media shouldn't just be a part of your support ecosystem– it should be a vital component of every department that impacts the customer experience. The public relations firm may be dealing with a journalists, the HR department may want to talk to recruiters or prospective employees.
So next time you're dealing with customers on social media, make a note of how to allocate your resources so you can deliver support with the speed and quality your customers demand of you.
This article was contributed by Vitaliy Verbenko. Vitaliy is a Marketing and Support Advocate at Helprace, a help desk and customer service software. He has been into customer service ever since he co-founded a small construction company five years ago. He holds a BA from Canada's Ryerson University.