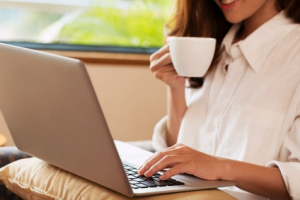 No matter how great and useful your products or services are, poorly designed and boring website that does not engage your visitors will simply fail to attract and maintain their attention and convert them into customers. Unless you're completely sure your website is close to perfect, consider these 10 simple ways to spice it up and make it more appealing and engaging for your visitors and customers.
1. Responsive Web Design
Even though responsive design is not a new concept, many businesses still lag behind in implementing it. Does your website look equally good no matter whether your visitors are looking at it on a desktop, tablet or phone? To make your website more engaging and provide a positive experience make sure it adjusts gracefully to perfectly fit any screen size of the device it's being viewed on.
2. Easy and Intuitive Navigation
Can your visitors find their way around your website quickly and effortlessly? If not, reshape your site and make your navigation simple, logical and intuitive to help people find exactly what they are looking for in less than three seconds. If it takes longer, they are more likely to lose interest and leave your website.
3. Relevant and Valuable Content
The content you want people to read on your website needs to be easy to find, simple, highly relevant, valuable and presented in easily digestible amounts. Make sure that each page offers highly focused and exclusive content that matches the reason the person has arrived at the page. The tone of the content is equally important when it comes to establishing two-way communication on your website.
4. Obvious Call-to-Action
When your visitors arrive at the homepage of your website for the first time, you need to tell them what you want them to do on your site and why. What action do you want your visitors to take? Whether it's purchasing your product, downloading your white paper, signing up for a trial, requesting more information or whatever else, make it obvious and visually prominent on your site.
5. References and Testimonials
If your customers find your products or services awesome, let your prospects know about this by sharing some real testimonials on your site. These compel the visitors to trust your claims more and increase the chance they'll keep exploring your website to learn more about your offerings. References and testimonials are also a great way to prove authenticity without bragging about your company.
6. The Right Color Combination
Colors contribute greatly to the overall feel and look of your website. It's a powerful means to touch the emotions of your site visitors. A perfect blend of colors is able to set the right tone and carry a necessary message for visitors. To make a positive first impression, make sure also that texts, images and graphics match or coordinate with the main colors of your site.
7. More Visuals
People love visual content, that's why dressing up your website with more visuals (without overwhelming) will definitely do more good than harm. Simple tip: choose compelling images and photos that convey a feeling. Apart from that, you can add videos that work even better. Actually, video is one of the most engaging tools you can put on your website – it's a great way of converting information into a meaningful and memorable content.
8. Clear Contact Details
Have you included sufficient contact details on your website? It might seem too obvious to mention here, but the truth is, many businesses still don't completely realize what concealed contact information might be costing them. Failing to provide quick and easy access to contact details is a sure-fire way to frustrate your visitors and make them move on to the next Google result.
9. Visible Live Chat
If you are offering Live Chat support on your website, consider making the chat button visible on every page to provide your visitors with an easy and convenient way to get in touch with you no matter where on the site they are. Proactive chat invitations can also greatly increase engagement and conversions, as long as they are being used wisely.
10. Active Social Media Presence
Almost everyone is on social media today, so are your potential customers. Make sure to increase the visibility and reach of your website through participation in social media channels showing your visitors and customers that they have a wider variety of options for communicating with your company directly. Though simply being on social media doesn't increase engagement. Being active on social media does.
Your website is a vital tool in your marketing strategy, so its ability to engage your visitors and encourage them to interact with your brand will have a powerful effect on your conversion rates. If you can think of other proven ways to make a website more engaging, feel free to share them in the comments.
_____
Provide Support is a leading customer service software provider, offering live chat and real-time visitor monitoring tool for businesses: www.ProvideSupport.com

Latest posts by Mary Shulzhenko
(see all)