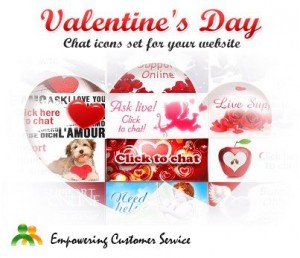 Love is in the air! Valentine's Day is just around the corner. It's the time to share your holiday mood with your customers and decorate your website with our special Valentine's Day inspired chat icons. You are welcome to select any set of available icons and add some seasonal flavor to your Company website.
Valentine's Day is a time when people show feelings of love, affection and friendship. Our designers have created special chat icons for this wonderful holiday, so do not miss a chance to add some Valentine's Day touch to your website.

Olga is a Head of Customer Service Advocates and Social Media Coordinator at Provide Support, LLC. She is a writer and blogger on customer service innovation, customer service excellence and customer support technology.