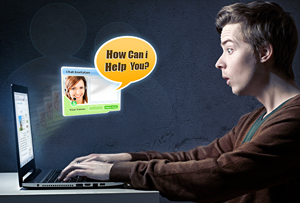 Live chat, being popular as it is in the land of the internet, with virtually every website flipping "hi, how may I help you" screen at you, is no doubt a great communication tool. Many businesses have grown to appreciate its immense interactivity and value for customer service.  Few however realize that live chat is much more than just another customer support hotline and  many tend to overlook the powers hidden within the monitoring and analytical capabilities that come in pack with live chat.
The fact is, live chat is truly a powerful tool, which not only helps you bring your customer service to the next level, but can also help you solve real challenges that any e-commerce business is bound to face.
The number 1 problem for all e-commerce websites
Well, getting more sales is the goal, that's right. But what's standing in the way? Abandoned shopping carts, which is indeed a curse upon any e-merchant. According to research conducted by emarketer.com (quote) " over the past four years shopping cart abandonment rates have run in the 60% range, meaning six in 10 shoppers who place items in a cart do not check out". That's an impressive statistics and very disquieting too considering all the efforts that are employed in discovering the leads and attracting them to the website.
In the above quoted article "Retailers Rethink Shopping Cart Abandonment", which is a great read by the way, coming with a full report for registered users, one of the solutions suggested to this problem is to search for ways to reach out to customers and give them a reason to recover their cart. Email, which many retailers have been employing, although a good solution, reaches the customer only post factum creating the need for the customer to go to the website and start the process again, which many will be reluctant to do.
And here is where live chat can come into play very helpful. With the real-time monitoring feature you can track the user's current page, their duration of stay on the page, and their navigation history through your website.

Additionally, using the co-browser you can actually see what the customer sees on their page. This provides you with the comprehensive information to identify customers who are stuck at the shopping cart page and jump at the situation offering help to them. By providing a quality service to this group of customers you can significantly decrease shopping cart abandonment and increase your conversion rates.
Poor design is a second big problem of e-commerce
Now this problem in a way can be called a predecessor to the first problem, because such blunders in the design as unclear instructions, incomplete information about a product or shipping costs, poor navigation, lack of contact information channels etc., will inevitably lead to losing a flock of customers who might have completed their purchase have they received the information and service they desired for.
Live chat with its analytics tool showing you top entry, top exit pages, pages most popular with users, and even browsers that customers have been using, helps you to detect flaws in the design of your website and take the necessary measures in order to fix them.
Security – another great hurdle of e-commerce
The internet being flooded with all sorts of scam and fraud these days, many websites hacked, it is no wonder that customers may feel apprehensive to give their credentials to unknown e-commerce sites. And so for any e-merchant it becomes a priority task to ensure their website credibility. Some of the common-sense solutions being employed are covering sensitive areas like privacy, license, warranty etc. in the Terms of Service, offering a professional web design, affiliating other websites, showing third-party logos and certificates etc.
One of the most effective ways, however, to build customer trust is to offer customers different contact options and actually be available for communication through these channels, so that users know there are real people behind the company and they will help them deal with their problems if such should arise.
And here live chat again comes to your rescue, giving you the ability to advertise your presence on your website and show customers that they can reach you at any moment, from any page of your website. This alone, combined with the possibility for yourself to be proactive and reach out to customers with invitations to chat, becomes a great prop in creating a reputation of trust with your prospects.
What's more, you can choose to use secure live chat, which will give you another occasion to flash a Comodo Secure certificate and instill even stronger confidence in your customers.
So, whether you are already using live chat for your business, or only considering this option, see to it that you make the best of all its features and release the full powers of this great communication tool.

Latest posts by Maria Lebed
(see all)