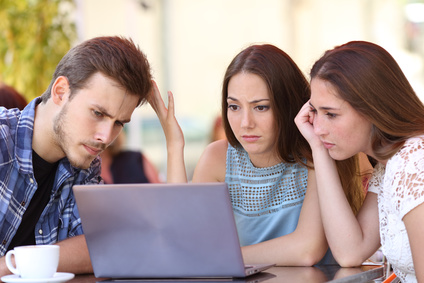 Complaining customers are, unfortunately, an inevitable fact of business life. The way you respond to and handle their complaints will determine whether your customers share on social media how terrible your company is or will remain happily loyal to your brand. Today social media channels are used not only for chatting with friends, they have also become a powerful source of sharing experiences and complaining about products or services. However, it would seem that businesses are somewhat lagging behind with their customer service "responsibilities" online. Because of this, customers are becoming confused, frustrated and, perhaps most significantly, impatient. Customers will no longer bear with unresponsive or unsatisfactory customer service online. They will look elsewhere and share their damaging reviews on your dealings with them. This in return will undoubtedly taint your business and ultimately lead to a major loss in profit.  
As shopping online and e-commerce is currently booming, your business could find itself losing a huge chunk of revenue purely to something as simple as thirty minutes of friendly correspondence and enquiring into the customer's issue. Yet many businesses aren't doing the simple things right and aren't accounting for the disastrous consequences of poor service on social media. However, this doesn't need to be the case with your business!
Do any of these statements seem dubious? Where are the findings you ask? Ponder no longer, as the following infographic has the facts and statistics to show us how important the role of social media in handling customers' complaints is and allow you to infer how much negative posts can affect businesses.

This infographic was contributed by Braedon Frank. Braedon Frank writes on the behalf of Stephen Avila and David Cammack at Legalo. Legalo is an ambitious and innovative law firm that specialises in providing resources and contract templates for businesses and consumers. With 10+ years experience each in the field of Law, Stephen and David can provide the specifications, guides and legal advice needed to have a full understanding of any legal issues relevant to you.