Many companies utilize email as a way of getting insights into the marketing activities' success. Unlike in-person or telephone interviews, email surveys can reach larger numbers of customers in a shorter period of time. Unfortunately, metrics can't give you a full picture and tell you everything about the product-market fit, customer satisfaction, and expectations. This is when email surveys step in to help you measure your marketing efforts and assess what needs improvement. 
But how do you encourage customers to provide their feedback? We've collected the best practices and ideas to help you figure out the answer to this question. 
Write a special subject line for your survey invitation 
Studies show that 47% of email recipients decide whether to open an email based solely on the subject line. This is why it's important to clearly communicate that this email is an invitation or survey itself within your subject line. Make your recipients feel appreciated by adding phrases like "We value/appreciate your input" and "We need your advice/opinion." If you send a follow-up email with a survey, use phrases like "Just checking in" and "How was your recent purchase?" Mention that your survey is time-specific by identifying how much time needs to be spent on filling out the questionnaire. 
Get creative with follow-up emails 
Sending a rate-your-experience email is the most popular way of asking customers for feedback over email. Follow-ups help you to find out whether your customers enjoyed the provided service or there is something you can improve.  
The functionality and creativeness of follow-ups are only limited by your imagination. Amazon's email below is a great example of a short and smart follow up. Since clothing sizes may vary, Amazon asks customers about their experiences. Then, this feedback is used on the website to specify which item's size fits somewhat differently. 
Keep your survey invitation simple 
Once you've crafted a welcoming subject line, it's time to design the email's body in a way that resonates with your recipients. When it comes to survey invitations, it's better to use visuals rather than plain text to make it more clickable. Keep your visuals and buttons as simple and inviting as possible. Here are some great examples of Airbnb and Expedia.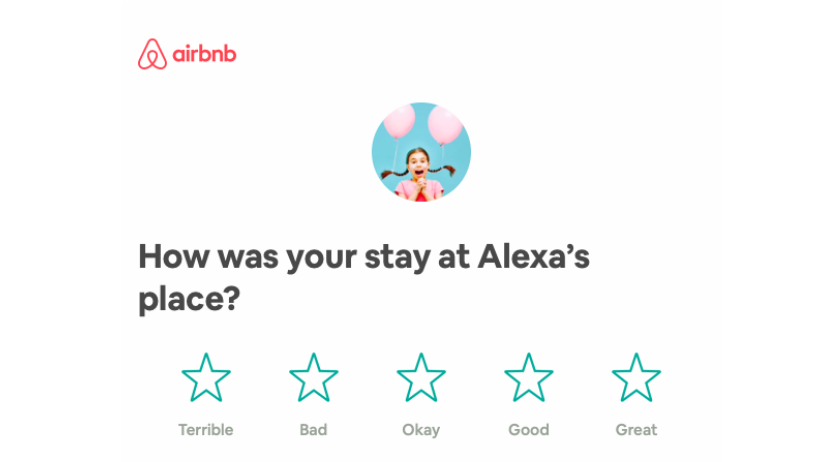 Combine or choose from these questionnaire templates to prompt recipients to answer your survey:
Yes/no questionnaire 

Multiple-choice questions 

Open questions 

Like/dislike questionnaire 

Satisfaction score
Create your survey with customers in mind 
The table below illustrates the results of the research suggesting that the smaller the number of questions in a survey, the more time respondents spend answering them. This means that you can get more valuable insights if you don't overwhelm your customers with a ton of questions. 
| Number of questions | Average seconds spent per question by a participant | Average survey completion time |
| --- | --- | --- |
|   1 |  75 seconds |  1 minute & 15 seconds |
|   2 |  40 seconds |  2 minutes |
|   3-10 |  30 seconds |  2-5 minutes |
|   11-15 |  25 seconds |  5-7 minutes |
|   16-25 |  21 seconds |  7-9 minutes |
|   26-30 |  19 seconds |  9-10 minutes |
Besides including too many questions, recipients can leave your survey with no reply if the questions you ask aren't specific enough. Make sure all of the questions are clearly stated and accurately communicate your ideas. 
When creating an email invitation or a survey itself, make sure to use grammar checking services, like Grammarly and Ivory Research, to keep your writing clear and mistake-free. 
Use email surveys to reinforce positive feelings 
Understanding psychology and how our brains work can have a positive impact on your sales and marketing practices. Employ principles of persuasion, consistency being one, into your email marketing and particularly survey invitation. Create a schedule or use the help of service providers for sending out your survey invitations consistently. 
Keep in mind that the very fact of taking a survey positively affects how your customers feel about your products or services. This is called a question-behavior effect. Studies prove that by answering surveys, customers don't only share their previous experiences, but also predict their relationship with your brand in the future. The satisfaction of providing positive feedback enhances the desire to buy products again. 
Create NPS surveys to reinforce positive feelings and measure customer loyalty. Check out how TED and Bank of America utilize NPS surveys to collect customer feedback.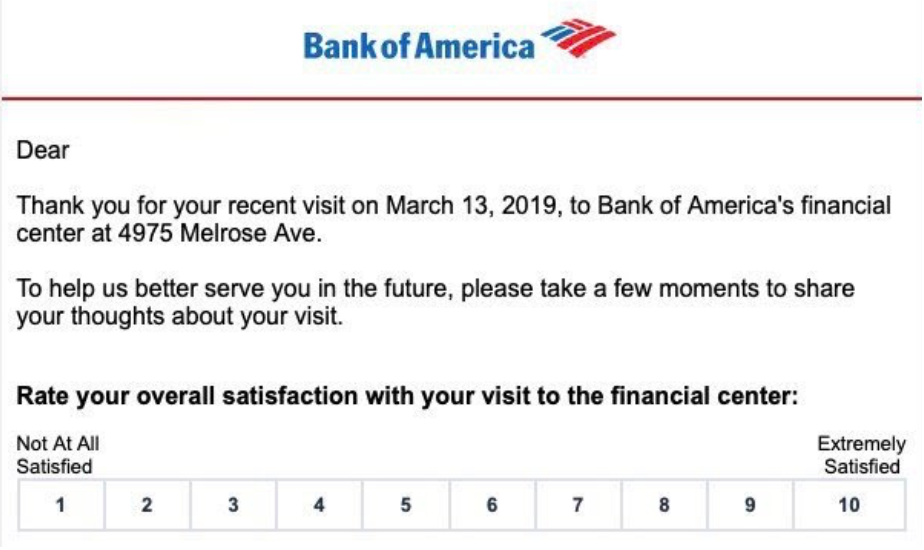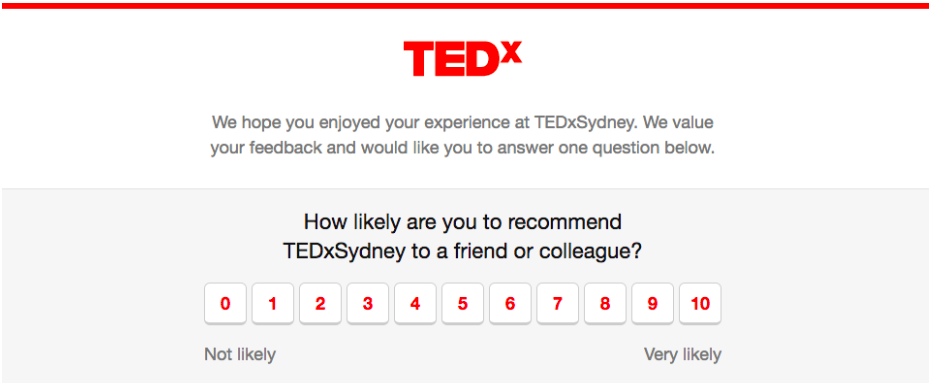 Choose the right time to ask for feedback 
Choosing the right time to ask for feedback is just as important as deciding what to ask. But when do you ask for valuable insights into customer satisfaction? Here are 4 idea to follow: 
After a user has subscribed to your mailing list / created an account

. Send out a brief survey once you've met your new customer will help you get to know them better. 

Right after a customer makes a purchase / receives a package

. Ask about an item they've purchased or about the buying process itself. 

When you launch a new product or host an event.

Ask your customers if they've heard about your latest products or the upcoming event. 

When you notice a negative change in email opens and links

. In this case, you want to check in with your customers and ask if they enjoy the service or if something needs improvement. Use phrases like "We haven't heard from you in a while" and  "We miss you" to show that a customer is valued. 
Keep in mind that… 
Customer feedback helps you learn things you don't know and can't measure. Once you've analyzed the feedback, you'll have a clearer picture of the customers' experiences, behaviors, and expectations. Don't get me wrong, assessing email click-through and open rates is crucial, but collecting customer feedback gives you a unique perspective that can't be brought by numbers. 
Another reason to collect customer feedback is validating your assumptions. If you've noticed a decrease in opens and links, you probably suspect that something is off. In this case, feedback can help you understand what works better and retain customers. 
And finally, gathering customer feedback proves to be an effective marketing tool. Not only surveys will give you enough information to make correct marketing decisions, but they also show your recipients that their opinion is included and appreciated. Conducting surveys, especially with customers who are satisfied with the service, allows improving loyalty and profitability in the long run.
About the author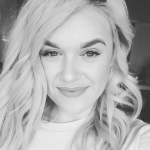 Alyse Falk is a writer working for Ivory Research writing service. She handles stories about the latest developments in the field of technology. Passionate about AI, Alyse has extensive experience writing articles and essays on data-driven analytics, cloud computing, cybersecurity, machine learning, and IoT devices. In her spare time, Alyse enjoys reading about all things innovative and in the field of technology. She also enjoys playing tennis and doing yoga on the weekends.