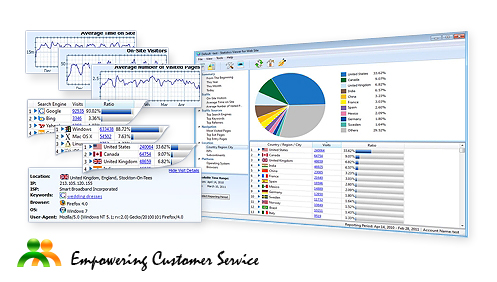 In case you have been using the Live Chat tool for a while, most likely you are already aware of the richness of benefits that Real-Time Monitoring tool can offer, including lots of valuable information about your website traffic. Not only this information can be used to serve your customers better in Live Chat, you can also get smart, actionable marketing insights with it.
If you are running advertising campaigns through an advertising network, we are sure you have a clear way to track the desired results through the reporting options available from your provider. But when it comes to effectiveness online, you can never get too much reporting and research about your marketing efforts. We believe it is a good practice to get a new angle on the marketing campaign results, and we would like to introduce you to the benefits of Live Chat reporting tool in this regard.
Take a look at traffic charts
The most vital website statistics is traffic amounts. This refers to the number of visitors that come to your website. It's important to track traffic numbers over time to see how well your site does as it grows and attracts a larger audience. The ViewStats application lets you run reports on visitors' data and gauge the quality of traffic just in a snap. Charts displaying average number of visits, page views, time spent on your website are really useful and comprehensive. You can select any reporting period since traffic statistics tracking was enabled in your account, so you can compare charts before and during each advertising campaign.
Keywords are a gold mine
The Live Chat reporting tool lets you find out at a glance your top keywords, top referring sites, and much more. It automatically analyzes your website traffic data and summarizes it into clear, simple reports. Knowing what exact search phrases customers use to find your products or services enables you to maximize the available search engine traffic. On the other hand, the tool lets you identify all the relevant keywords to use in PPC campaigns. Using them in Google AdWords and Yahoo Search Marketing campaigns provides better coverage and increases ROI.
Know your referrers
Referrers can give you an insight too. Traffic sources that send people to your website are very important to marketing campaigns. Knowing which sources tend to send more traffic to your website can help you increase your overall traffic numbers. With Live Chat reporting tool you can get detailed reports on your top sources, and these statistics can help you better understand how your site is improving and what you can do to help it grow even more. Keep close tabs on these numbers and find ways you can improve your marketing strategy.
We hope these features will help you better understand your marketing efforts effectiveness and optimize your ad campaigns and traffic quality. If you are looking for an intuitive and easy-to-use Live Chat reporting tool, why not give it a try with Provide Support? The attraction of new visitors through optimized search campaigns would bring a rapid return on investment, making it an extremely efficient and cost-effective tool for your business.

Latest posts by Julia Lewis
(see all)