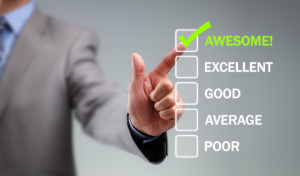 In a fast-paced world where convenience is prized above all else, it's not surprising customers appreciate communicating via live chat.
In fact, according to the Zendesk Benchmark report, live chat has the highest satisfaction level for any customer service channel.
A live chat channel provides clients access to warm, friendly customer support without having to pick up the telephone. As such, all replies must be as accurate, concise, and helpful as possible.
So how can you increase your chances of hiring live chat agents who exemplify these qualities and delight your customers? It all starts with identifying the skills necessary to succeed in the role.
5 Essential Skills for Live Chat Agents
A recent live chat skills benchmarks report performed by Dr. Brent Holland revealed the five core skills you should be looking for in every live chat rep you hire. The presence of these skills could potentially boost your company's first chat resolution by 20%, and customer satisfaction by 22%, FurstPerson research shows.
1. Writing Skills
Since live chat relies solely on written communication, excellent writing skills are the foundation for all successful live chat agents. Online customers are looking for efficient, straightforward answers to their questions, so it is essential to hire those who can communicate in a clear, friendly style.
Poor grammar and incoherent sentences make a bad first impression. Thus, an individual will likely turn to another customer service channel, or another business entirely, if they do not immediately feel as if their question(s) will be answered or their issue(s) will be resolved.
Lauren Simonds, in her Time magazine article entitled, Good Writing Can Help You Succeed, writes:
"Bad writing can have a wide-ranging, negative effect on your business, from creating a less-than-coherent business plan and hampering your efforts to attract investors, to communicating with employees, vendors and even your customers."
In a digital age of abbreviated written communication, it is even more important for your live chat agents to know the ins and outs of proper grammar, spelling, and punctuation. These qualities establish trust and credibility early in the transaction between a customer and the live chat agent.
2. Multi-Tasking
Finding and hiring agents with solid multi-tasking abilities is important to overall company productivity. However, the power of effective multi-tasking can also improve customer satisfaction and ROI.
In larger companies, it is not uncommon for live chat agents to assist multiple customers at once. In these types of situations, it is important for an agent to have the ability to give each customer an equal amount of time and consideration. A live chat agent who can successfully execute concurrent chats will increase customer satisfaction by being able to provide answers or find solutions in an efficient manner.
3. Navigation
A successful live chat agent will need to navigate the same programs and procedures hundreds of times each day. Efficient use of required software, including the use of all available shortcuts, will minimize response time and maximize customer satisfaction.
Short wait times are one of the main reasons why so many customers prefer live chat support. The Zendesk Benchmark report also notes, "There's a clear negative relationship between live chat customer satisfaction and the amount of time a customer spends waiting to hear back from an agent."
Hiring live chat agents who can easily navigate their available resources will cut down on customer wait time and increase the effectiveness of the live chat program.
4. Data Entry
Data entry is a key component of any customer service interaction. Similar to phone support, live chat support requires inputting customer account numbers and other important details into a database while maintaining a friendly and productive transaction. The customer experience may suffer if the information is entered incorrectly and the conclusions are inaccurate.
5. Customer Service
It is often easier to establish rapport with a customer over the phone, so in some cases, live chat agents must work harder to earn a client's trust and build a strong relationship.
Customers are looking for live chat agents who are attentive to their needs and exchange many messages back and forth. They are interested in working with customer service professionals who provide assistance, advice, and answers in a pleasant manner.
The Zendesk Benchmark report notes, "…customers appear to like a more back-and-forth style of conversation. Specifically – live chat customer satisfaction increases as the number of chat messages exchanged increases. One possible reason: customers are happier with agents who are more engaged in the customer support process – either by asking more troubleshooting questions, or simply taking the time to ask the customer how his or her day is going."
Once businesses understand the five essential skills of a successful live chat agent, they can focus their efforts on hiring individuals who can take their live chat program to the next level.
Identify the Best Live Chat Agents with Chat Simulation Assessments
Leaving your customer interactions to chance when hiring live chat agents can be a risky proposition for your business. Instead, you can gain peace of mind by testing these essential skills with data-driven talent assessment tools like live chat simulations. These types of tools go beyond traditional interviews by immersing candidates in environments that closely resemble those they'll be working in.
This way, candidates get a true feel for what the job is like, managers get access to data that provide them with an in-depth insights into applicants' future performances.
By relying on data to identify these five core skills, you can easily combat the challenge of finding, hiring, and keeping high-quality live chat representatives, and establish consistency across your live chat support channel.
This article was contributed by Suzanna Colberg. Suzanna is the Content Marketing Manager for FurstPerson, Inc., a market leader in data-driven, pre-hire  talent assessment solutions for live chat, service, support, and sales jobs.