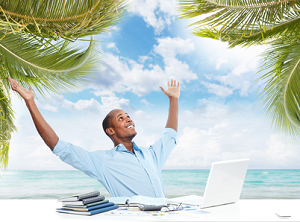 We are all dreaming of some perfect destination in our lives, in our businesses, in our relationships. A place which we could call home, where we can relax and savor each moment of existence. Does it exist? I feel that it does.
In my perception this place is very magical. It is a state of perfect balance where, once you reach it, everything gets taken care by itself, one element enabling and supporting the functioning of another and where everything is interconnected and interrelated. It is one whole self-sufficient entity. And because it does not need support from the outside, it is joyful, it is abiding in a state of nirvana.
How to reach this bountiful state? Whether we are talking about customer service or any other aspect of life, the first step in that direction is to recognize the fact the some things are out of balance now. Seeing clearly the dysfunction of the current state is the most important aspect of a journey back to a balanced state.
It appears that the customer service sun is starting to rise and shine to both customers and companies around the world. The recent stats from 2015 U.S. State of Multi-channel Customer Service Report by Parature, showing that 62% of consumers feel that overall customer service is getting better rather than worse, sounds quite positive. At the same time a lot of dysfunctional activities are still happening in customer service, which is proved by the fact that 68% of consumers have stopped doing business with a brand due to a poor customer service experience.
Pointers to the dysfunction are also pointers to the way out of it. Below are the 6 signposts showing a direction to reach this desirable and very fruitful state of customer service nirvana.
1. No hold times
It seems that most companies are aware of the importance of responding to customer service requests quickly. There has been so much talk about it in the media, so much research going on. And still, it is amazing how long a customer is made to wait even today. A brief look at http://onholdwith.com/ site which collects Twitter complaints from customers stuck on hold, will be enough to be reassured of the real state of affairs. Many companies, unfortunately, are closing their eyes to this reality and ruining their business, even though they may be making efforts to ensure customer satisfaction in other areas.
There is a simple and affordable solution to this problem. Even if for some reason your business cannot process incoming requests in real-time, you can always offer the customer a call-back option.
There are a few studies which confirmed that most customers don't like being on hold for more than one minute and rather prefer a call-back.
2. Convenience: omni-channel, self-service, mobile
Customers are flexible about the means they use to engage companies. Research by the Corporate Executive Board finds that only 16% of customers are "means-focused", knowing exactly which customer service channel they prefer to contact a company. The majority, 84% of customers, are "ends-focused", choosing the channel based on their expectation of a successful question resolution through that channel.
While according to CX Act's research 75% of customers still use traditional contact channels, the expectation for self-service online is up to three times higher and mobile care consideration is ten times higher than the current usage.
Expectation for support via mobile is also growing. According to a recent study, 77% of those aged 18 to 24 use mobile devices at least once per month for customer support. It is predicted that by 2016, mobile search will generate 27.8 billion more queries than desktop search.
All these facts suggest that each company needs to ensure versatility of their customer support channels to meet the current demands of their clients as well as their expectations for the future.
 3. Escalation and consistency across channels
Statistically, 83% of online customers require some degree of support to complete a purchase and 35% require escalation to another channel, mostly voice.
One of the major complaints that customers have is that when they approach a company through a different contact channel, a lot of the time they need to repeat their issue to another agent. Moreover, the responses they get from different members of a company are often inconsistent and confusing.
To deal with this problem many companies today are implementing "click to call" or "request a call-back" features across different channels. It helps to interconnect different support channels, such as adding live chat links to email, social media and self-help resources, links to self-help in social media and email etc.
Taking care of consistency will require to keep and synchronize the information provided by the customer across different channels and allow the support agents easy and convenient access to it.
When you are choosing and implementing your support applications, keep in mind these two aspects and make sure your stuff is trained to be attentive and follow the guidelines of service to avoid giving the customers confusing or incorrect answers.
 4. Strive for first-call resolution
Getting quick and easy solution for their problem is the first priority for the customer. First contact resolution remains the primary factor for the consumer in deciding which contact channel to choose.
Statistical facts prove much higher levels of loyalty and advocacy when service issues are resolved in the first call: 92% of customers are likely to continue using the company, 86% are likely to recommend the brand, 88% are likely to spread positive word of mouth about the brand. Isn't there something to strive for?
Improving FCR rates obviously takes a lot of effort in training of your personnel. Technical equipment is also important, as it will allow the customer service people access to the client's information necessary to provide good service to them. Professional applications which are easy to handle and navigate through will free the agents from time-consuming work and will increase the chances the customer's issue will not need escalation.
 5. Listen and act on customer feedback
Nothing is a better pointer to a company to where a dysfunction in customer service lies than customer feedback. If a fix is implemented, no one but the customer will judge better of its efficiency. It is important to listen to the voice of the customer not only to increase their satisfaction, because yes, they do like to be heard, but also to evaluate how different parts of the customer service system are functioning and if they need any adjustment.
According to Forrester, successful VOC programs should support a cycle of four activities: listen to customer feedback, interpret the resulting data, react to improve the experience, and monitor results. Kevin Stritz, an expert in customer loyalty, puts it this way: "Know what your customers want most and what your company does best. Focus on where those two meet."
 6. Take care of your employees
The existing trends in the customer service industry require customer support advisers to be able to handle complex transactions across a variety of support channels, traditional as well as emerging ones. They are expected to constantly learn new skills to be able to perform well in a more advanced technological environment. The company's responsibility at this point is to provide quality technical training to their employees so that technology does not become a speed breaker in the face of real-time interaction with the customer.
On the bright side of technological sophistication lies the fact that customer service positions become more challenging and interesting for people. There is more space for creativity for them, and for the company – more opportunities for engaging their employees emotionally and creating a really strong and efficient team.
Another aspect of employee care is to create a fun and positive work environment in your company. Customers highly value a human contact. In fact, they consider it the third most important factor in deciding which channel to choose for contact. To ensure that your agents are really involved in support and dedicated to serving the customers well, it is absolutely necessary that they feel taken care of themselves, which includes motivating, inspiring and encouraging them for good performance.
According to Genesys Global survey, 78% of customers think that competent customer service reps are most responsible for a happy customer experience. So, it becomes quite obvious that it is impossible to underestimate the importance of investing time and resources into employee care.
In a word, this was my short guide, a route map to your perfect customer service destination . Are you ready to go? Does the destination sound appealing?
If you are ready, let's go!

Latest posts by Maria Lebed
(see all)