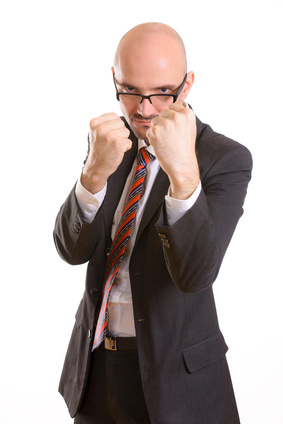 Difficult customers can give customer support a hard time. Still these customers are a great asset for any company, as in most cases the level of customer support offered by the company will be judged by how their agents handle difficult situations and not how they accept praises.
Learning to communicate with dissatisfied customers effectively is the essential part of the customer service training. It is no secret that many reps when faced with an angry client fail to maintain their competence and fall into being defensive, submissive or aloof. None of these behaviors unfortunately can be associated with great customer service.
Whence come the difficulty?
So why is it always difficult to communicate with a customer who is disgruntled? It seems that although we may have learned to keep calm on the surface and remain polite to the customer, we still treat them as an enemy, someone who is taking out their aggression on us, while in fact we should position ourselves as the customer's ally.
Despite the fact that customer service is hired by the company, it is hired to look after the best interests of the customer and not the company.
The major mistake in the customer service vision
Customer service reps are used to thinking of themselves as the advocates for the company, which is the biggest attribute of the wrong customer service vision. With this mind-frame they raise a wall between themselves and the customer, which prevents effective communication and makes it impossible to arrive at a solution.
If we see someone as an enemy and aggressor, emotional detachment, hostility or nauseating obedience on our part are an inevitable reaction. And the customer can't help but to feel it. Even if a solution to their problem has been offered, they are less likely to leave with a good impression of their experience.
How to treat the angry customer correctly
The primary task here is to cultivate the proper vision of your role as a customer service link. You are to think yourself in the same camp with the customer, his confidant in a way. If he is angry, he is angry at the situation and not at you personally. In fact you are his hope and he is turning to you for help. You are to go out for him and explore the situation and suggest possible solutions.
So the first step:
 Be genuinely on the customers side, and make sure to let them know about it, so that they don't feel you only pretend it.
The rest should come easy,  just as it would if you were communicating with a team member:
Be friendly with the customer, but keep respectful and polite tone
Listen carefully to their problem to make sure you understand everything correctly, ask questions
Employ all the resources to find a solution to the customer's problem, consult appropriate people when necessary.  While you are doing this, let the customer know that you are doing it, never leave them wondering
When a solution is known/found, inform the customer about it, but remain impartial whether it is negative or positive
If a response to the customer's problem is negative, concentrate on the alternatives. Describe all possible solutions and offer your help exploring/utilizing them
Finally, keep calm! 🙂
Please feel free to share your thoughts and experiences in the comments. We'd love to hear about them.

Latest posts by Maria Lebed
(see all)