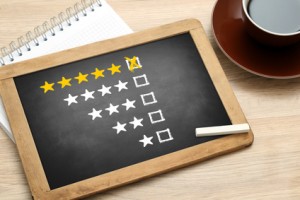 There should be no guessing game when it goes about improving customer experience. Today lots of various metrics allow you to measure your customer experience and based on those results you can take advantage of different techniques to make your customers happier and more satisfied. Knowing what your customers think about your customer service, brand and products will help you to develop the right strategy for improving the overall customer experience. Customer service excellence has always been and will always be one of the critical competitive advantages for any business. 
Meet your customers' expectations
9 out of 10 consumers expect to receive a consistent experience over multiple contact channels. If you wish to be successful in your business you need to meet your customers' expectations and offer omni-channel customer service, follow modern trends and utilize technology. This quote will inspire you to make improvements in your customer service: "Every day we are saying, 'how can we keep this customer happy? How can we get ahead in innovation by doing this?'…Because if we don't, somebody else will". Bill Gates.
Response time matters
For each of your support channels your customers have different expectations. When they contact you in live chat or by phone, they expect immediate and fast response while when sending an email they expect a response within 24-48 hours.
If you offer live chat service, ensure that your customers get a response in less than one minute as this support channel implies fast and efficient service.
When you provide phone service, the response time should not increase 3 minutes. If for some reason you cannot handle phone requests that efficiently, you can offer a call back service and contact your customer back within 24 hours.
For email support the expected response time is one business day.
For social media channels the response time will depend on the social media network. E.g. Twitter users expect a fast response while Facebook users expect to get a response within one business day.
Improve the average resolution time
This measurement calculates the average resolution time (TTR) of service requests that were closed within the given period. TTR (time to resolution) is typically measured in days, hours or minutes, depending on the nature of the product or service being provided. This metric has a great importance for those businesses where technical support is offered as it allows controlling support costs while maintaining customer satisfaction. Among factors which make the greatest impact on TTR are communication skills of both support agents and customers, their technical expertise, a possibility of CSR to access all necessary resources and make fast decisions without involving higher management. However, you should not take this metric as the benchmark for your customer service. When it comes to figures, the human factor which plays one of the most important roles in the customer experience is lost. Take metrics into consideration but remain humans.
What is NPS?
The Net Promoter Score, or NPS, is based on the fundamental perspective that every company's customers can be divided into three categories: Promoters, Passives, and Detractors. By asking one simple question — How likely is it that you would recommend [your company] to a friend or colleague? — you can track these groups and measure your company's performance. Customers who respond on a 0-to-10 point rating scale can be divided into three categories:
Promoters (score 9-10) are loyal enthusiasts who will keep buying and refer others, boosting your sales.
Passives (score 7-8) are satisfied but unenthusiastic customers who are vulnerable to competitive offerings.
Detractors (score 0-6) are unhappy customers who can damage your brand and impede growth through negative word-of-mouth.
To calculate your company's NPS, take the percentage of customers who are Promoters and subtract the percentage of those who are Detractors.
Having this information at your fingertips will help you to form your company strategy on discounts, promo campaigns and loyalty programs. However, while building your company strategy this metric should not be the only one to rely on. If you take into consideration all points of interaction with your customers and their journey map you will be able to improve their experience. Doing this only on one point of interaction will not impact the overall customer experience.
What is your customer's journey?
Building your customer's journey map will help you to better understand your customers and identify gaps or shortfalls between their expectations and reality. Highlight the main points of interaction and find out how your customers feel while interacting with your team, browsing your website or making orders. This will help to improve customer experience throughout the whole journey, making it fascinating and memorable.
Feelings are important
70% of buying experiences are based on how the customers feel they are being treated. Positive and consistent customer experience requires not only trained customer service team but also a human touch. Just a simple smile or "thank you" note will change the tone of your conversation. Such "little things" make the customer experience more positive and form a community of your loyal customers and brand followers. Just be emotionally engaged with what you do and do not forget that your customers also have feelings.
Listen to your customers
Every day we hear how important it is to listen to our customers but do we really do so? Being a customer advocate requires not only customer-centric company policy but also such skills as an ability to listen and empathize. Listen to your customers, use their suggestions to form your customer service strategy and encourage them to share their ideas.
These easy tips will help you to deliver a flawless experience to your customers, make their interactions with your company memorable and pleasant:
meet your customers' expectations and requirements
encourage your customers to share feedback
measure your company and customer service team's performance
listen to your customers
offer personalized customer service
use innovative technologies
make your website and online store user friendly
let your customers easily reach you
ask your customers' opinion
exceed customers' expectations
When you put yourself into your customers' and website visitors' shoes and follow these steps you will notice an immediate effect. We would be glad to hear about your company's strategy for improving the overall customer experience.