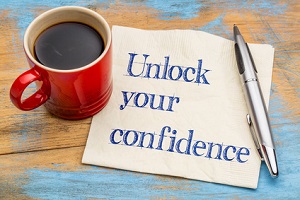 Exceptional customer service starts with confidence. It is one of the most important components of delivering great service to your customers and developing quality employees.
After all, customers want to know that the employee they are dealing with knows what one is doing and they get served in a professional manner. If they have a question, they need prompt and honest answers and if an employee does not have an answer, they want to be sure that the representative is committed to getting it.
In an interview a few of years ago Donald Trump was asked about what were the most important keys to his success in business. In short, his answer was "Exude confidence. If you know what you're doing, that should be easy."
The second part of his answer speaks to me. I think each one of us knows from experience that when we know what we are doing, the question of confidence doesn't even come into play. When you know something, you may need to watch out not to become cocky, but quiet confidence comes natural.
When applied to customer service, this means that if you want you reps to be confident in front of customers, they need to be well trained and prepared to answer any type of questions.
Below are a few tips that will help you to train more confident and successful customer service representatives.
1. Let them learn the products
It's important that the rep has a first-hand experience using the product or service you are offering. I'm sure many of us had the experience of dealing with a company rep, which we could clearly tell doesn't know the product. That is very frustrating, because you immediately feel that the conversation is pointless, as you seem to know the product better than the rep and of course they cannot help you.
For this reason it is necessary to give time to employees to explore your products and services in-depth and challenge them with difficult tasks or questions. You can, for example, pull up a few of the most difficult customer cases you had in the past and give them to your employees to solve. This will give them the opportunity and motivation to go beyond the basics and explore the products and services deeper.
2. Offer scenario based customer service training
To be more confident during real-time communications, reps need to be trained in most common types of interaction they will have with customers. A good approach here is to segment the questions your customers typically ask and show your agents how to best answer those questions.
Additionally, it is good to give training on the different types of customers that may contact support and explain to the agents how to build their line of communication with those clients.
3. Let mistakes be acknowledged openly
One of the things that helps confidence immensely is sincerity and honesty. If the employee is forced to lie to a customer about something, they will not feel confident in that conversation. They will be even more lost and confused if they feel they need to lie to their employer about some mistake they committed with the customer. It is really important to create an atmosphere or trust and friendship within the company, where mistakes can be freely and openly acknowledged and even laughed at. It is impossible to avoid making mistakes altogether. However, honestly acknowledging mistakes and understanding why they happened is the shortcut to reducing them in the future and feeling more confident.
4. Trust in your employees
I think confidence is an emotional state. Trusting in your people, seeing them as talented and capable, and innovative can do miracles to their confidence and performance. Pablo Picasso once said,
When I was a child my mother said to me, 'If you become a soldier, you'll be a general. If you become a monk, you'll be the pope.' Instead I became a painter and wound up as Picasso.
You can really train great performance if you trust in your reps and give your support.
5. Show recognition
Saying "thank you" for the work that your reps do in making your customers happy is essential to help them stay confident. Without positive feedback it is very difficult to remain confident. After all, one feels confident when he or she does something for others and they value it.
By now, it's a well-known fact that employees aren't feeling valued at work. When asked what leaders could do more of to improve engagement, 58% of respondents replied "give recognition".
There is really no such thing as "too much recognition". Positive feedback has the power to make your reps feel more competent and confident while at the same time improving their productivity. Doesn't that sound good?
In closure
Customers like to deal with confident employees, because confidence signals them at least two things, that the person they are dealing with is knowledgeable and they are honest. Confidence can make great impression on customers and make them want to deal with you further.
Pay attention to the confidence levels that your reps are showing and help them to build more of it. What other tools rather than those discussed above would you use to boost confidence in your customer service reps? Please share your tips and ideas in the comments.

Latest posts by Maria Lebed
(see all)