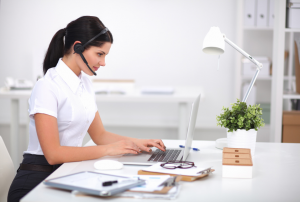 The number of channels and choices for customer support are growing and businesses who enable customers to reach them on the channel of their choice experience high levels of customer satisfaction.
Of course, the more traditional methods of email and phone calls are channels that many consumers still prefer. But other platforms such as SMS, social media, live chat and self-service have all seen significant rises in popularity and use.
So how do you make the most of these different channels to maximize their effect and ensure happy customers? Here's a breakdown of best practices for successful multichannel customer service:
Have productive and professional live chats
Live chat has become more popular over the last few years with 38% of customers using it in 2009 to 58% of customers using it in 2014. To create a positive customer service experience with live chat, consider these tips:
Introduce yourself. Letting the customer know your name helps create both a personable and professional impression.
Be quick in your responses. This is a real-time chat so if you have to pause to find information, let them know that you're still there and are looking for the information you need to help them.
Offer a solution. Over the course of the conversation, you should be able to figure out the best solution to the problem and offer it to the customer. Don't ever leave things open-ended.
Offer simple explanations. Don't use advanced technological terms or industry jargon. Be specific but make your instructions easy to understand for the layman.

Know when SMS works best
Text messages are typically read within three minutes of being sent. For customers, it's a convenient way for them to communicate with a business: they don't have to have an internet connection, be sitting in front of their desktop or laptop or be placed on hold.
Besides responding to customer queries, businesses can use SMS for the following:
Urgent issues. Because SMS is one of the fastest ways to reach a client, it's ideal when there's a critical situation. Banks may use it to alert customers of possible fraudulent activity with their account. A home security company can use it to let customers know there was a security issue in their home or business.
Delivery status. Giving customers updates that let them know where their package is, if there's been a delay and if it was delivered make them feel like you're taking care of their needs from point of purchase to delivery time.
Keep up with social media
Social media is often a customer's first step towards finding a business, driving more traffic to websites than web searches. For a one-stop experience, customers may reach out to businesses with questions and concerns via Facebook, Twitter, Snapchat, Instagram and other platforms.
Customers expect fast responses (32% expect a response in 30 minutes or less, 42% expect a response in under an hour and 57% expect the same response time at night and on weekends). Most businesses are not able to meet these expectations, leading to negative customer experiences.
On the other hand, a positive customer experience on social media can boost customer loyalty significantly:
Make sure you have trained professional customer service staff continuously monitoring your social media sites.
Track your response times and set goals for improving them if they're lagging.
Increase customer service staff if necessary.
Help customers use self-service
Business in the age of information has a great benefit when it comes to customer service – customers can often find the answer themselves. In fact, self-service is frequently their first course of action before reaching out to a company for assistance.
You can help them help themselves by compiling data about common questions your company receives. Also, use Google Analytics to find out what keywords customers are using to search for things on your site. Use this information to create excellent:
FAQs. Make sure your FAQ's page covers the most relevant customer service topics and gives clear, useful answers.
Knowledge base articles. Compose specialized articles that give instructions and offer solutions to the customers reading them such as step-by-step guides on how to use a product from the most basic to the most advanced. Offer those guides in a blog or as a separate section featured in header on your website so customers can refer to them quickly and easily.
Bring them together
Multichannel is about giving customers a choice about how they want to communicate. Customers may decide to switch between channels depending on which one is most convenient to them at the moment.
Make sure you allow them this choice by syncing the communication between the different channels. Don't make them repeat information or start from zero just because they switched to a different platform. Make it your priority to offer quality support across all the channels your business offers.
About the author: Alexa Lemzy is the customer support specialist and content manager at TextMagic. She usually writes about customer service, mobile marketing and effective ways to grow customer loyalty. You can follow her on Twitter.