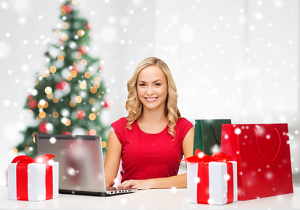 Holiday revenue can account for 20-40% of a retailer's annual sales, according to NRF. That's why online and omni-channel retailers have every reason to work hard to prepare for the holiday season.
Perhaps, it is understandable that one in four retailers names sales, revenue, profit and conversions as a top business priority during the holiday season. However, it is those 27% of retailers who cite improved customer experience as their top priority who are truly on right path to achieving their business goal of high revenue.
The landscape of customer preferences is changing every year. What strategy to choose and where to focus your effort to meet customer expectations of this holiday season?
1. Convenient mobile experience
More and more consumers each year are shopping and making purchases on mobile devices. Listrak and Harris Poll Holiday Research Study found that 20% of consumers plan to do at least some of their holiday shopping on a tablet or smartphone in 2015.
Looking at last year's usage, retailers reported that 25 to 29% of their traffic came from mobile device. At the same time, mobile accounted for about 26% of all online transactions.
In the spring of this year, Google announced that more than half of searches were coming from mobile.
"Mobile is going to be a huge focus because many brands have had their 'mobile moment' where more than half of their orders are coming from devices. I think it's going to be yet again the year of mobile" said Scot Wingo, executive chairman and founder of ChannelAdvisor.
While shopping on their mobile device, 71% of consumers are ranking convenience as the most important factor of their customer experience, found a recent research by Adobe. The current state of events is such that 70.97% of the retailers surveyed provide responsively designed websites to enhance their shoppers' mobile experience, and 64.52% provide responsively designed email templates. Only 12.90% of retailers offer a mobile shopping app.
Obviously, this is not enough to satisfy customer expectations. While mobile is the primary device for a significant number of consumers, satisfaction with the mobile retail experience is found to be relatively low. According to a Adobe, only 45 % of shoppers are satisfied with retail applications.
There is still a lot of work in that direction for many companies. What can you say about your customers? How satisfied are they with their mobile experience?
2. Convenient shopping in multiple channels, omni-channel pick up and return policy
Consumers report that they will shop in multiple channels this year. Listrak study is telling us that 60% of consumers strongly/somewhat agree that the ability to buy online and pick up in-store influences where they make holiday gift purchases. A quarter (25%) strongly agrees. It seems that even if they don't necessarily plan to take advantage of the option, it is still important that the opportunity exists when choosing where to shop.
Convenient returns are even slightly more important to shoppers. 72% of consumers strongly/somewhat agree that the ability to buy online and return in-store influences where they plan to make holiday gift purchases.
Interestingly, when asked which digital marketing channels – search engine marketing, product recommendations on retailers' websites, online display ads, banners and social media – they find very/somewhat helpful in making holiday decisions, consumers respond in a near three-way tie for first. 67% of consumers find search engine marketing to be very/somewhat useful and 66% retailer emails and product recommendations on retailers' websites.
25% report that social media is one of the best media resources for retailers to reach them in November and December, and 43% report that they find social media very/somewhat helpful in making holiday shopping decisions.
So how much effort are you putting into omni-channel and delivering a convenient customer experience this holiday season?
3. Personalization
According to a recent survey by Accenture, nearly 60% of U.S consumers agreed that they want a more personalized shopping experience with real-time promotions and offers. And this number continues to rise.
What's more, 51% of consumers expect retailers to personalize their holiday shopping experience based on what they've already purchased or shown interest in no matter what device they're shopping on.
The need to make emails more relevant and personalized is even more critical as over one third (35%) of customers who subscribe to retailers' email lists report that they mostly ignore or delete them, unless those messages are telling them about holiday sales and promotions, are personalized based on the consumer's shopping and browsing behavior or if they make holiday shopping easier (for example, by grouping items by price or gender).
To meet personalization expectations, retailers need to be collecting as much customer data as possible and be able to synchronize and act on it.
It has become increasingly important for brands be able to meet today's hyper-connected customers on their terms and across multiple channels of interaction. The above 3 steps indicate the most important aspects of consumer expectations for this year's holiday season.
52.54% of surveyed brands respond that they are ready to deliver the seamless omni-channel experience their customers expect this holiday season. 47.46% of retailers at least aware that they have more work to do.
I hope your brand is ready to meet all of your customers expectations, but even if not, the right focus on improving customer experience rather than trying to achieve higher sales, and applying maximum effort in that direction, according to your resources, will always yield the best possible result for you.

Latest posts by Maria Lebed
(see all)