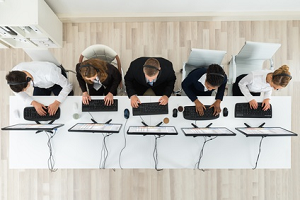 There's a delicate balance when it comes to scaling any professional team: hire too many too soon and resources go underutilized, but leave it too late and you risk overburdening your existing team members.
Customer support teams in particular can become overloaded and burned out if the company is growing faster than the team has capacity to handle.
There's a big expectation on support teams to continue providing reliable service to customers at all times, and to never let the cracks show. For a customer, it doesn't matter how many open tickets a support agent has on their plate as long as their agent is dealing with their issue right now.
For support agents, pressure comes from both sides – they're held accountable for their efficiency from both the company and the customer. When the number of incoming inquiries is too much to handle, the only way to reduce the pressure is to get more hands on deck to deal with the volume.
While hiring managers draw up probing customer service interview questions and great job descriptions. It's then that support managers realize they are under pressure to keep the team lean and keep costs down, so recruiting is often a last resort. Unfortunately, it's usually only when the team is visibly overloaded and customer inquiries are consistently not being handled in a reasonable time frame that managers are able to recruit.
What if there was a way that support managers could predict exactly how many support agents they need at any point in the future? What if they could anticipate the increase in demand on the team and hire new agents to get them up to speed before their team starts to burnout?
Using data to forecast team requirements
As the zen saying goes: awareness is the greatest agent for change.
In order for support managers to take action and prevent burnout for their team, it's incredibly important to be aware of the performance of the team and gain a full picture of the capacity of the team as it is, before considering the possibility of recruiting more customer service agents.
Many support managers measure their support team and individual agents on a metric called average handling time, which gives the total average duration of a single call, including hold time, talk time and the follow-up or admin tasks related to that call.
This isn't particularly effective as a standalone metric, as it doesn't take into account countless other factors that could affect handle time, but it can help managers keep tabs on how many hours are being worked, and can help them to see when team members are overloaded.
When it comes to forecasting growth requirements of a team, AHT plays only a small part. Instead of thinking about how they can increase the efficiency of their existing team, managers can begin to consider additional factors that, when combined, can only be resolved by growing the team.
Finding the support sweet spot
To get the balance right when it comes to scaling a support team, it's essential to look at statistics related to not just ticket time, but also non-ticket time. For instance, consider this:
How many days off in total does the support team have for vacations, training or illness?
How many hours of meetings does your team attend each week?
Do agents have time away from tickets to work on projects?
How efficient is your team? (39% employees spend about an hour a week on non-work tasks)
These data should be mapped against contextual data associated with customer growth. It's possible to find out current customer numbers, the average customer growth and churn per month, and average number of contacts per customer, and determine the number of expected amount of conversations each month, how many hours it will take to resolve these, and how many support agents are needed.
This kind of thorough analysis positioned against the bigger picture of business success is useful for teams in general, even if agents aren't experiencing burnout, and is worth conducting periodically. Data-driven recruitment and scaling may be intimidating for hiring managers without a statistical background, but there are some tools available that are very helpful for taking the equations out of the equation, like this support team hiring model.
Ultimately, the goal of scaling a support team should be to maintain customer happiness by reducing the amount of volume you're receiving. Support managers can forecast the demands of customers based on projected company and customer growth and current productivity metrics.
About the author:
Jamie Edwards is the COO of Kayako, the unified customer service platform. Jamie is helping customers deliver customer service so good it becomes their competitive advantage.